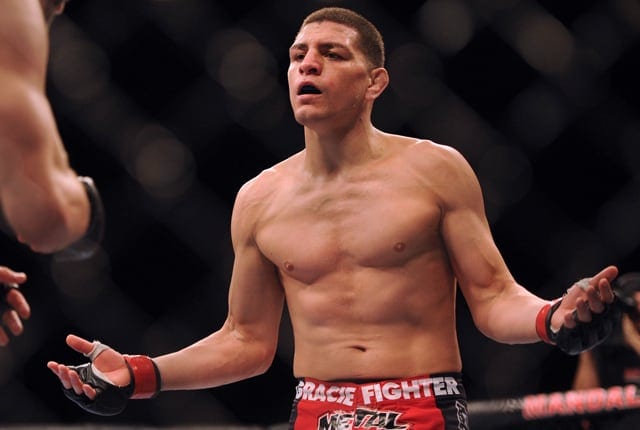 Nick Diaz has always been known for his street-tough mindset and reputation.
And while he's been out of action since 2015 and was only just reinstated from a USADA suspension, the enigmatic Stockton, Calif.-born striker still manages to remain at the forefront of the MMA world despite not having a legitimate win inside an MMA cage since late 2011.
Case in point, Diaz came up in an interesting story when TMZ recently interviewed longtime comedian and movie star Marlon Wayans in L.A. Diaz was spotted outside of nightclub Catch in West Hollywood, where the reporter asked Wayans about his thoughts about the fan favorite fighter.
According to Wayans, he watched Diaz beat up a rowdy club-goer after warning the man not to mess with him, and the results were not good:
"I said 'Brah, you f***ing with the wrong dude.' He goes 'F*** that bro. You don't know me. I'm gonna f*** [him up].'

"Nick grabbed his ass … Pop! Pop! Pop! Three elbows. Pop! Pop! Two knees. Fight was over. Blood everywhere."

"I just tapped the dude and said, 'I told yo ass!'"
A Nick Diaz return would be one of the most anticipated MMA events of the year if it were to finally happen, but the longtime superstar has been more focused on living it up in L.A. and Las Vegas than competing in the Octagon.
He's once again eligible to do so, of course, but several fights have been offered to him in recent years only to see him turn them down.
That apparently won't stop him from beating loudmouths in the club, however.

Will we ever see him in the cage again?