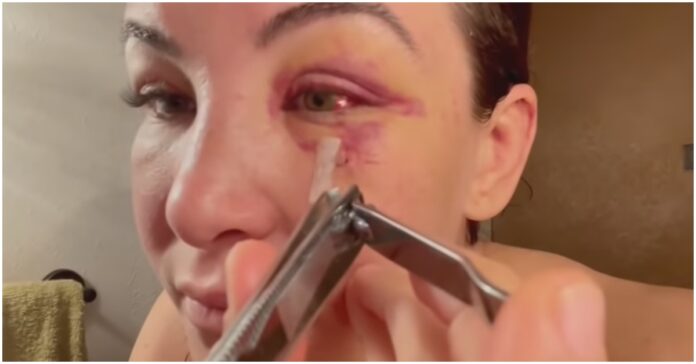 If you don't already think Miesha Tate is a savage, you certainly will do after watching the latest video the former UFC bantamweight champion has uploaded to her YouTube channel.
'Cupcake' suffered a setback in her latest UFC title run when she was outpointed and battered by Ketlen Vieira over five rounds in the UFC Vegas 43 headliner last week.
The fight was close and Tate certainly had her moments but Vieira was simply the better boxer and inflicted some serious damage on Tate's left eye which was swelling shut as the fight progressed.
Vieira walked away with a well-deserved unanimous decision win over one of WMMA's biggest legends in Tate who appears to be undeterred by this latest setback.
"Hey we had fun tonight!! I still feel like I evolved and in truth I was never tied to an outcome," Tate wrote on social media post-fight. "Just happy to enjoy these moments. Thank you as always for the support and congratulations @KetlenVieiraUFC."
Miesha Tate Says Who Needs A Doctor!?
On Saturday, Tate uploaded a video taken two days prior that showed her during the healing process. The eye that was so badly damaged at UFC Vegas 43 is already looking much better. So much so, that the 35-year-old believed that it was time for her stitches to come out.
"Good morning, it is November 25th and I'm going to take my stitches out," Tate says at the beginning of the two-minute video. "I feel like I'm healing up pretty well, all things considered. I actually already took one (stitch) out and I thought, you know what, maybe you all would like to see this.
"I think there's no point in going to the doctor to remove these, but I'm also kind of crazy," Tate added while she removed her stitches with what appears to be a nail clipper. "I'm also so weird that I don't really like people to help me with stuff like this. I just like to do it myself."
What's next for Miesha Tate?