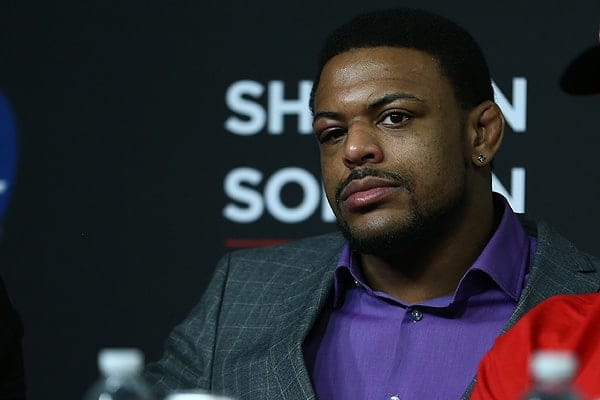 UFC lightweight contender Michael Johnson came out of UFC Fight Night 73 on the wrong side of the judge's scorecards. 'The Menace' took on Beneil Dariush in a three round affair, a fight which many had Johnson ahead in after the final buzzer had sounded. Two scores of 29-28 saw the decision handed to 'Benny', they can be seen here.
Johnson's striking and takedown defense looked enough to earn him the win in the eyes of many, including spectators in the arena. Speaking during the post fight press conference, as quoted by MMAFighting's Shaun Al-Shatti, 'The Menace' says he still deserves a step up in competition after the somewhat controversial decision loss:
"I definitely think I deserve a big fight after this. Everybody knows I won that fight,"
Fight Metric scored the striking as 84-75 to Johnson, Dariush had all his takedowns stuffed, and both landed with a connect percentage of 37%. Also according to the FM scores, Johnson outstruck 'Benny' in round one and two. He continued:
"I definitely thought I pushed the pace a lot more the whole fight," Johnson said. "I stuffed every one of his takedowns and I think I landed more, so I don't see how they could've given him the win. Not taking anything away from Beneil, he fought a very good fight, but at the same time I controlled the whole fight. It is what it is. That's why you don't leave anything to the judges."
"It's a little frustrating, and I apologize for the way I reacted, but you know how it is," Johnson continued. "I set out to get in there and get a job well done, get my goal of getting up to a title shot, and this kind of stops that. So I've just gotta get back in there."
Lessons learned from the past suggest that even with an appeal, the decision would end up standing. Diego Sanchez' daylight robber of Ross Pearson in New Mexico was upheld after an appeal, but 'The Real Deal' still got the step up in opponent in his next showing.
With UFC president Dana White already voicing his displeasure with the Johnson decision, it looks as though the Blackzilian TUF (The Ultimate Fighter) alum will probably get his request as far as a step up.
Do you think the judges were correct in their decision, or does Johnson's opinion ring truer?