Instead of a fitting conclusion to a rivalry that had gained a ton of traction in recent weeks, MMA fans and the fighters involved were left with a highly anticlimactic feeling when rising lightweight contender Kevin Lee submitted Michael Chiesa with a controversial choke in the main event of last night's (Sun., June 25, 2017) UFC Fight Night 112 from the Chesapeake Energy Arena in Oklahoma City, Oklahoma.
While it was clear that Lee was using superior footwork, speed, athleticism, and to the surprise of many, grappling to dominate Chiesa throughout the majority of the one-round bout, referee Mario Yamasaki muddied the result and called off the fight without Chiesa tapping out or passing out. His only defense could have been he saw Chiesa passing out so he went to save him from more damage, but even might be a flimsy one.
Either way, Chiesa was understandably frustrated with and will appeal the call finishing his main event fight, and he channeled his energy when he went off on the decision after the debated match-up. ""Maverick" told FOX Sports that the call was incredibly questionable because women's strawweight Justine Kish was locked in a tight rear-naked choke from Felice Herrig just a few fights earlier on the main card and was allowed to escape:
"It's unbalanced officiating when two fights before that, we seen, who was it, Justine Kish just gettin' her head squeezed off, and they didn't do anything about it. Like, how are you gonna let that slide, but we go into the main event slot, a heated rival, hyped fight, and you let it crumble like this."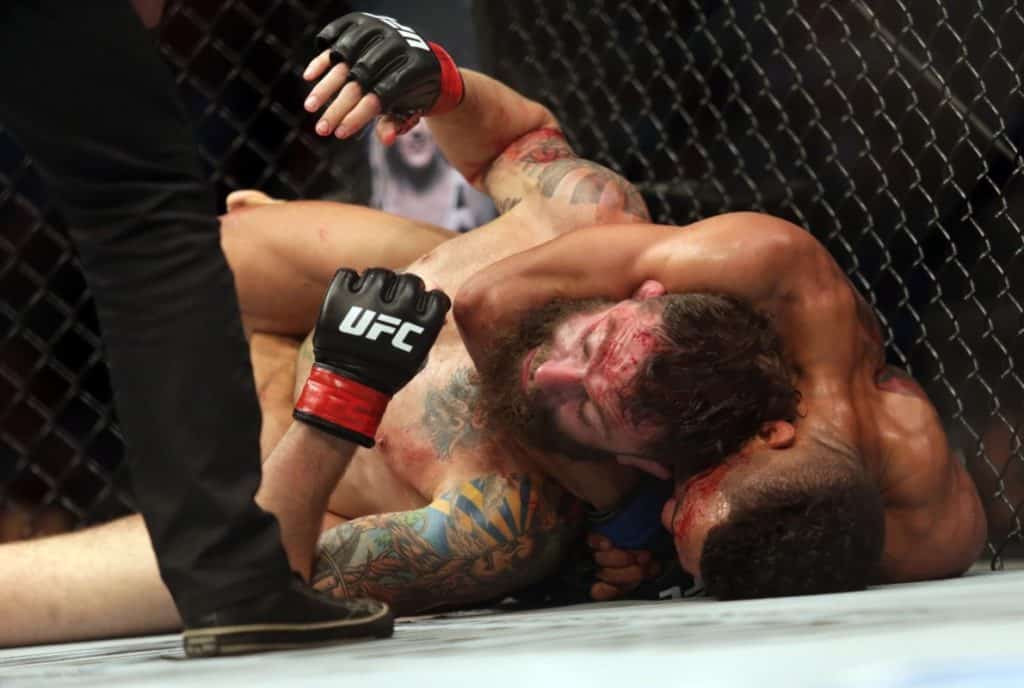 While any appeal is unlikely to result in the loss being overturned, Chiesa then let loose with his true feelings about Yamasaki, an incredibly controversial referee who has gained what can now legitimately be called an grossly inconsistent decision-making process in terms of when he does and doesn't call fights off. Chiesa said Yamasaki should never referee another MMA fight again:
"I mean Mario Yamasaki should just crawl into a hole and never step inside of any type of professional mixed martial arts events, he should never officiate ever again. He should spend more time going over the rules than making his stupid little heart symbols to the cameras."
It's a brutal assessment to be sure, yet it's not exactly all that far off-base from what many have been saying about Yamasaki for some time now, even if Chiesa is biased and obviously speaking from a place of elevated emotion in the minutes after the jaw-droppingly silly call.
So Lee agreed to give Chiesa a rematch in his post-fight interview, but warned his rival that the result would just be more of the same. "Maverick" isn't buying it, of course, and wants to rematch The Motown Phenom" in his home of Detroit this December. 155-pound champion Conor McGregor is off training for his boxing mega bout with Floyd Mayweather on August 26, so the top level of the stacked UFC lightweight class is in a sort of holding pattern right now anyway.
Is a rematch the right fight to make, or should the UFC move on to a bigger and better match-up for Lee, such as an incredibly promising match with Edson Barboza?