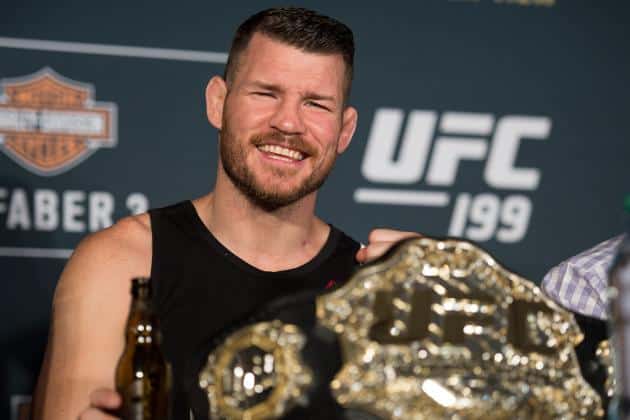 Ex-UFC middleweight champion Luke Rockhold has his sights fixed on current division king Michael Bisping, but odds are he won't be getting that fight anytime soon.
Rockhold comes off a second round TKO win over former World Series Of Fighting (WSOF) dual-weight champ David Branch this past weekend at UFC Fight Night 116 from Pittsburgh. After the fight, Rockhold called out former UFC welterweight champion Georges St-Pierre and urged him to pull out of his upcoming 185-pound title fight against "The Count," a bout he labeled as his fight:
Luke Rockhold calls out GSP, says he's "coming for that belt" #UFCPittsburgh https://t.co/LM5JNo7bhA

— FOX Sports: UFC (@UFCONFOX) September 17, 2017
Bisping got the opportunity to respond to Rockhold's comments on "TUF Talk" last night (Wed. September 20, 2017), and instead suggested that the Californian set his sights on former middleweight champion Chris Weidman. The Englishman suggested that the pair of 'bums' duke it out and 'claw' their way back to the top of the middleweight scene (quotes via MMA Junkie):
"It's a good job that (Rockhold) looks good, because he obviously can't add up," Bisping said. "Because 15 months? I fought less than a year ago. He hasn't fought since I knocked him out in three minutes – yes, three minutes – out cold.

"Then he comes back. He fights – who was it, David Branch? Never heard of him. You should go and rematch Chris Weidman – (they're) a couple of bums. Try and claw your way back to the top."
If you enjoyed this story, please share it on social media!