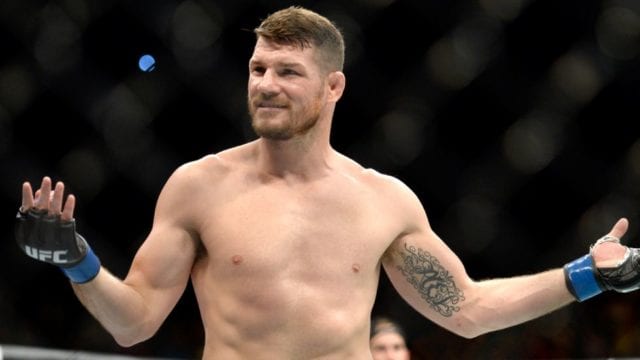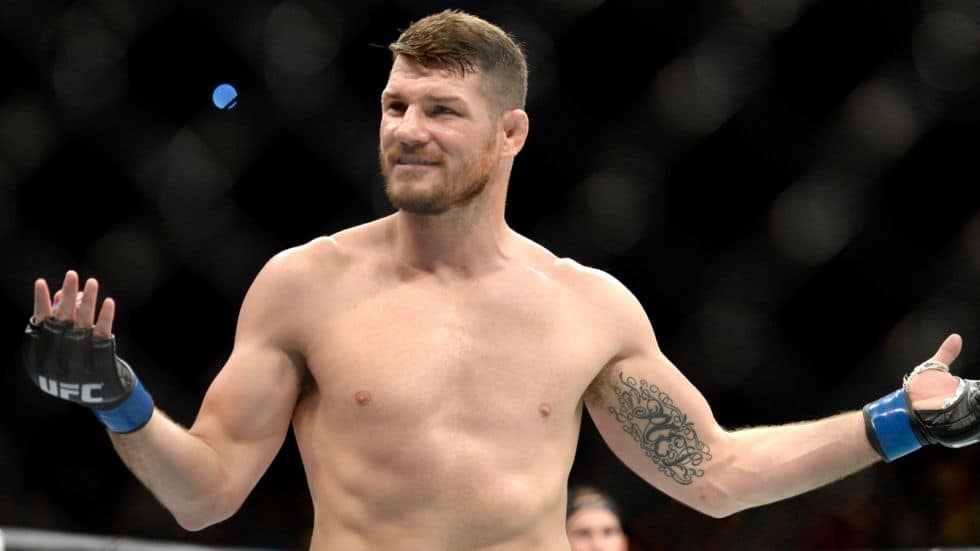 Former UFC middleweight champion Michael Bisping has addressed his recent exchange with Colby Covington and receiving criticism from UFC announcer Jon Anik.
It all started over the weekend. As seen in the co-main event of the main card for the UFC 225 pay-per-view event at the United Center in Chicago, Illinois, Covington was able to score a decision win over former UFC lightweight champion Rafael dos Anjos to win the interim welterweight title.
Covington made an appearance on the UFC 225 post-fight show on FOX Sports 1 after the event where he spoke with Karyn Bryant, Kenny Florian, Michelle Waterson, and Bisping.
This led to a heated exchange between Bisping and Covington. Bisping spoke about the exchange during a recent episode of his Believe You Me podcast.
"He came right hot out of the gate," Bisping said (transcript courtesy of MMA Fighting). "I get it, the guy's charged and he's kind of made a career out of being controversial and what-not. Maybe if I could do it again I'd calm down, I'd bring it down just a notch but the first thing he said was 'Hey, I've got all my haters in one spot. Blah blah blah.' So I said, hold on a minute, just listen, we actually gave you a lot of compliments. . .

"Colby Covington, he's mister controversy. Everywhere he goes he tries to create controversy. For crying out loud he Tweets out spoilers to the new Star Wars movies and things like that. So when he came on, the first thing he did was, 'f**k you guys up there on the panel. Kiss my ass, you all picked me to lose!' So I thought, okay here we go, we've got Colby Covington in rare form – this is what he likes to do – so I thought maybe I'd be a sparring partner for him.

"I wasn't offended by anything that he said. . . I thought if Colby wants to have a Colby-esque moment and create drama and controversy then I'll be a sparring partner with him. I gave it back to him a little bit."
Bisping switched gears and moved to the comments made by Anik, who put the former UFC champ on blast through the power of social media by calling his behavior "disgraceful."
Although Anik would later apologize for some of the things that he said on Twitter, Bisping accepted his apology and noted that he doesn't have any ill will towards Anik.
However, it didn't stop Bisping from making a snarky jab nonetheless.
"We all have different styles," Bisping joked. "Jon obviously wouldn't do that – and I love Jon, don't get me wrong, I'm having a bit of fun here – but we've got different styles. Jon wouldn't have done that and I wouldn't go to social media to berate a colleague. We've all just got different styles."

"Those comments stung a little bit," Bisping said. "If you've got a problem, maybe just shoot me a text, maybe give me some advice. Maybe say, 'Yo Mike, just giving you some advice as a friend. When you're in that position, try and separate yourself as a fighter.' Maybe try and guide me along. Don't say, 'Hey, I'm hoping this motherf**ker gets fired. He definitely needs to be reprimanded by Fox and this is disgraceful and he should be ashamed.'

"There's no beef. I respect Jon greatly. I respect him as a commentator, I respect him as a professional, and as a person. I truly do, I'm just having a bit of fun with it. He said it, he apologized, whatever. I couldn't care less. I'm not in the habit of trying to make enemies. I'm trying to make friends and not hold grudges against people for a silly little Tweet."