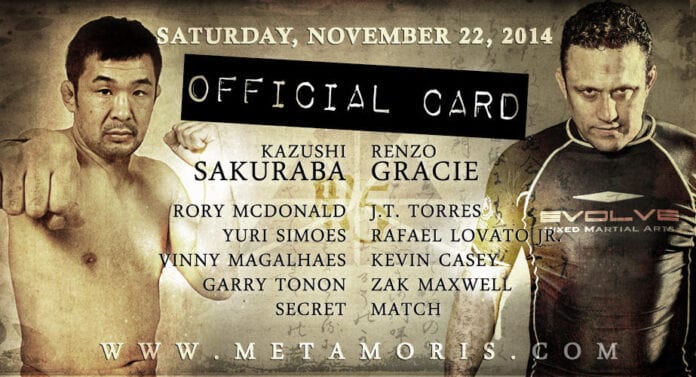 Metamoris 5 went down tonight (Saturday Nov. 22nd, 2014) at 5 PM ET with their PPV card for the ages. At the the top of the much anticipated card was a throwback to the Pride days, with Renzo Gracie taking on Kazushi Sakuraba. In what was quite an entertaining, but non-decisive bout, these two aged legends relived their glory days, too an extent.
Flamboyant guard passing and takedowns were the story of Gracie vs Saku, but neither man saw the opportunity to get the finish. A nostalgic bout ends in a draw.
Rory MacDonald took on world champion Jiu Jitsu specialist J.T. Torres, and "Ares" is 25 pounds heavier than Torres here. It was really a tale of two matches-MacDonald trying to bully Torres, and the smaller man showing that speed and agility teamed with experience is key. A great back-and-forth match, ended as a draw.
The secret match was interesting, as Jake Shields took on Roberto Satoshi in a thrilling high paced affair. The action was non stop with some very high level grappling on display, the match concluded in a draw, but was easily the best of the night to this point.
Yuri Simoes and Lovato Jr. replacement Keenan Cornelius went at it next, and it was a very entertaining match. At one point Cornelius pulled off a donkey guard, and Simoes looked sure for victory with a toehold transitioning to a knee bar, but Cornelius refused to tap. Another draw.
UFC veteran Vinny Magalhaes took on Matheus Diniz, in what turned out to be a disappointing pairing. After multiple exchanged positions, neither man seemed too fussed with actually locking in any submissions. A stale mate match went to a draw with both visibly frustrated. ""Lion Killer" Garry Tonon opened the card, and got the job done quickly against Zak Maxwell. After multiple attempts, Tonon gets the tap by heel hook submission.
Main Event:
Kazushi Sakuraba vs. Renzo Gracie is a draw
Main Card:
Rory MacDonald vs. J.T. Torres is a draw
Yuri Simoes vs. Rafael Lovato Jr. Keenan Cornelius is a draw
Vinny Magalhaes vs. Kevin Casey Matheus Diniz is a draw
Garry Tonon def. Zak Maxwell by submission (heel hook)
Secret Match Jake Shields vs Roberto Satoshi is a draw