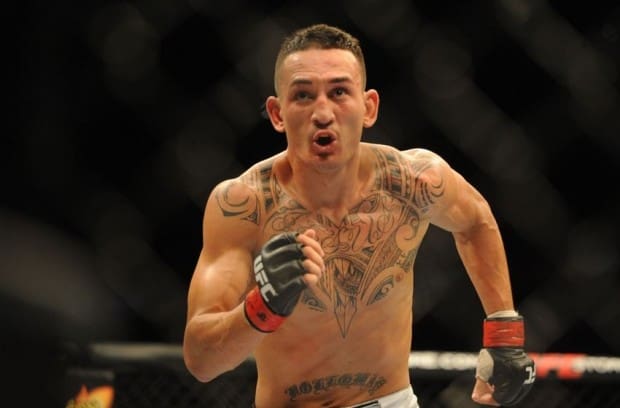 The main card of UFC 194 opened with a featherweight tilt between Max Holloway (15-3) and Jeremy Stephens (24-12). ""Blessed" came into the bout with seven straight victories inside the Octagon. "Lil' Heathen" was looking to keep his momentum going after a TKO win over Dennis Bermudez back in July.
Stephens went for a leg kick right away. Holloway threw out a couple of jabs. Holloway took his time in the opening frame before landing a right hook. "Lil' Heathen" pressed his opponent against the fence. "Blessed" broke free and continued to try to gauge his opponent. Stephens connected with an outside leg kick. The round ended with Holloway's back against the cage.
Stephens went for an uppercut, but missed. Holloway landed a knee to the body followed by a punch to the head. "Blessed" went for a spinning back kick to the body, but Stephens caught the leg and once again held his opponent against the fence. Holloway and Stephens traded punches. Holloway landed a jab as "Lil' Heathen" pushed forward. A right hand connected for "Blessed" on a clinch break.
Stephens looked to be more aggressive at the start of the final round. Holloway got his opponent to the mat. ""Blessed" took the back of his opponent and went for a rear naked choke. The action moved to half guard, but Holloway took Stephens' back again. "Lil' Heathen" returned to his feet. The fight ended with Stephens desperately looking for a home run shot, but he couldn't find the mark.
Final Result: Max Holloway def. Jeremy Stephens via unanimous decision (30-27, 30-27, 29-28)