Mauricio Rua & Paul Craig Draw After Three Rounds – UFC Sao Paulo Results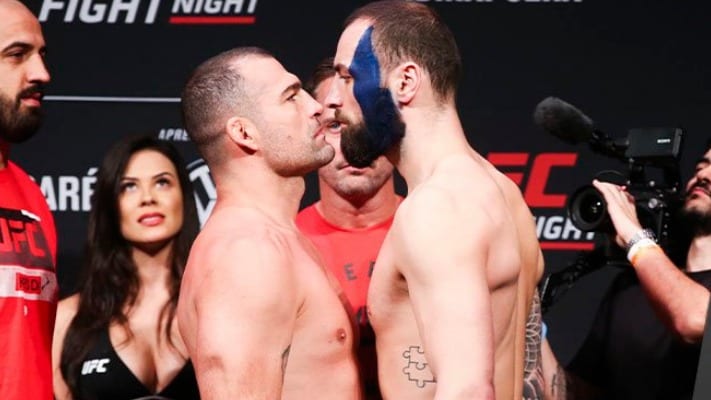 In our UFC Sao Paulo co-main event, light heavyweights Mauricio "Shogun" Rua and Paul Craig go head-to-head.
Round 1:
Craig opens up with a kick to the body. More kicks to the body from Craig. A head kick from Craig is just blocked. Rua lands a nice countershot on Craig coming in, but now they're clinched up against the cage and Craig nails a nice knee to the body. They separate and Craig lands another nice kick to the body.
Rua shoots in after catching a head kick. Now Craig working for a standing guillotine. Craig breaks the hold and is now pouring on strikes against the cage. Rua fires back and lands a nice shot of his own, and now Craig is shooting in. They separate but Rua shoots in again. Rua now jumping in with some nice shots, forcing Craig to clinch up. The round comes to an end.
Round 2:
Craig lands a kick to the body backing away. An uppercut from Rua grazes Craig's chin. Craig with a nice jab. Another kick to the body from Craig, but he catches it and takes things to the ground. Craig gets full guard but Rua is trying to posture up. Side control from Rua now, but Craig immediately recovers to full guard.
Craig lands an upkick as Rua dives in for ground-and-pound, but is right back into Craig's full guard. Rua gets up and dives right back down, landing a punch into half guard. The round comes to an end.
Round 3:
Rua blitzes forward with punches but Craig moves his head out of them. Craig shoots in for a weird takedown attempt and ends up on the bottom in full guard. Craig lands hammerfists from the bottom, and a kick to Rua's chest as Rua stands up, and dives back down into full guard with some punches that are blocked.
Rua stands up again and dives back down with another punch that misses. Craig found his opportunity to shoot to his feet, eats to big shots from Rua, but Craig gets the big takedown to end the round.
Official Result: Mauricio Rua vs. Paul Craig ends via split draw (29-28, 28-29, 28-28)