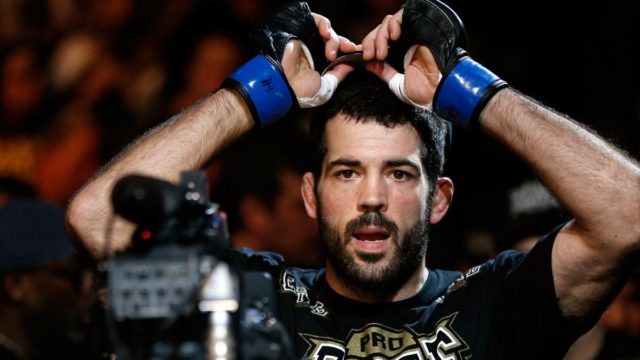 Veteran UFC welterweight slugger Matt Brown will return to the octagon tonight (Saturday July 11th, 2015) as he faces Tim Means in the feature prelims bout on FOX Sports 1 at UFC 189. 'The Immortal' has become known for his exciting style, and his UFC career so far is highlighted by wins over Erick Silva, Jordan Mein and Mike Swick. Back-to-back losses against Robbie Lawler and Johny Hendricks mean Brown needs a win more than ever against 'Dirty Bird' in Las Vegas, but there's something else on his mind.
Talking during the recent UFC 189 media day, and captured by Shaun Al-Shatti of MMAFighting.com, 'The Immortal' sounds off on what he claims is a BS drug testing policy in the UFC:
"We found out that it was a two-year ban instead of a four-year, which to me is complete bulls–t," Brown fumed at Thursday's media day. "I'm thinking maybe I'll start a petition for the UFC fighters. Maybe we can all band together and ask for a petition to ask to get a minimum four-year ban. Why would you not sign the petition? Unless you're juicing. I think it should be a lifetime ban."
Mike Richman got hit with a two-year ban when he recently popped for steroids, Gilbert Melendez just got a one-year sit, and Joe Rogan says Vitor Belfort has ripped alien teeth, so you could perhaps say, along with Anderson Silva, Hector Lombard, Jon Jones and countless others, that 2015 has been the worse of the modern epidemic. That being said, it's only because they are being tested more we are realizing how rife the problem is. Perhaps it's the punishment as opposed to the testing standards that need to be addressed, as stated by Brown.
"I find it ludicrous that they have a f–king standard for every other sport except for the one where you can get f–king murdered in a cage," Brown said. "People do die doing this s–t, just not in the UFC people haven't yet fortunately. The day is going to come when it happens. We all know that. If it happens to someone who got beat by a known juicer, is that not gonna be more of an issue? I don't want to be the dead one, because a motherf–ker was sticking needles in himself all day."
"It takes some mental fortitude to not let that kind of stuff affect you," Brown said. "I read the forums probably way more than I should, your guys' forum too, or the comments at least. I probably read that stuff way too much. When you do, you can start letting that get into your head and believe it a little bit.
"You've just got to have the mental fortitude and intelligence to be able to separate the truth from fiction."
Ronda Rousey accused Cyborg of attempted murder after Justino was busted for steroid use, and it appears 'The Immortal' is of the same mindset. It's always tough to face the problem of cheaters in sports, but none more so than in the field of hand-to-hand combat sports.
What are your thoughts, would the UFC lose too many assets by putting in four-year or lifetime bans, or are the two-year sits simply too soft for offenders, especially repeat fouls?