Mark Hunt Destroys Fabricio Werdum Following USADA Suspension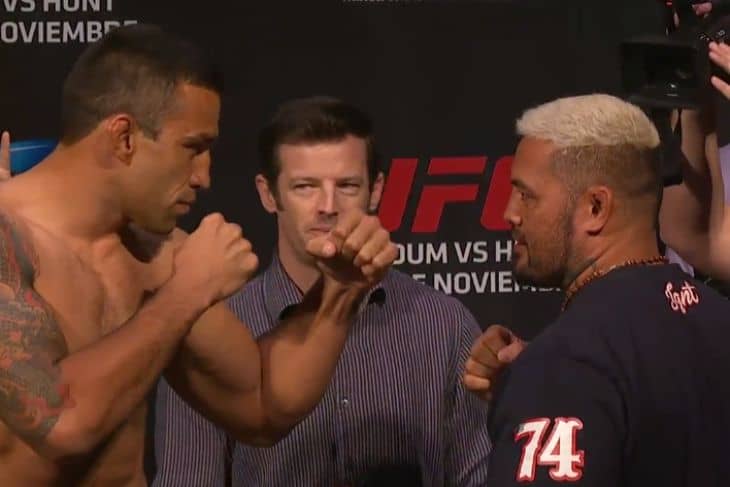 If there's one thing mixed martial arts (MMA) fans know for sure about Mark Hunt, it's that he despises cheaters.
Hunt has been a longtime advocate against fighters who abuse performance-enhancing drugs (PEDs) while in competition. In fact, Hunt has shared the Octagon with plenty of fighters who have been caught using PEDs.
Recently, Hunt sued the UFC over his UFC 200 fight with Brock Lesnar, who was later revealed to have failed a United States Anti-Doping Agency (USADA) test. Meanwhile, more UFC heavyweights continue to be penalized for such matters.
Earlier this week (Tues. September 11, 2018) it was announced that former UFC heavyweight champion Fabricio Werdum was given a two-year suspension for an anti-doping violation in April. Hunt told MMA Junkie he's "glad" to see Werdum get what he deserves:
"I'm glad that Fabricio Werdum got caught, that little (expletive)," Hunt said. "Go back to the favelas. (Expletive) you, you little (expletive).

"Good job. He was supposed to be here, but that's what you get for being weak. That's what you get, Fabricio, for being a weak-minded person. See you later."
Hunt and Werdum have shared the Octagon before. They contested for the interim UFC heavyweight title back in 2014, a fight "Vai Cavalo" won in a second-round knockout via flying knee. His recent suspension puts the 41-year-old's MMA career into question.
'The Super Samoan' isn't over that fight's result, however, as he cut a massive amount of weight to fill in at UFC 188 in Mexico City, and got knocked out for his efforts. For that reason Hunt has no love lost at all for "Vai Cavalo":
"I had to lose 21 kilograms in three and a half weeks to make that a title fight," Hunt said. "I got kneed in the head by that little cheater. Then he beats Cain in Mexico. That really upsets me about that guy. Then he wouldn't fight me – he's just a cheating little (expletive), man. He's a little dog, that guy. See you later, Fabricio. Enjoy, mother(expletive)."
As for Hunt, he's preparing to take on Oleksiy Oliynyk in the main event of UFC Moscow this weekend (Sat. September 15, 2018).