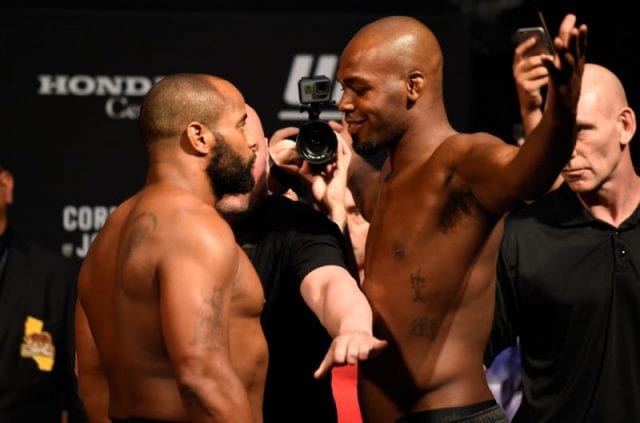 Jon Jones manager Malki Kawa hints at two logical opponents for "Bones" return.
Former two-time light heavyweight champion Jon "Bones" Jones is cleared to fight in early October following the completion of his 15-month anti-doping suspension.
So who gets to welcome Jones back to the octagon? Or better yet, what weight class will "Bones" be competing upon his return?
Speaking with Luke Thomas on the most recent episode of The MMA Hour, Jones longtime agent Kawa believes there are only two fights that make sense for Jones. Either a rematch with Alexander Gustafsson or a third fight with bitter rival Daniel Cormier.
"I think Jon would have a claim to fight for that light heavyweight belt," Kawa said. "If he doesn't, if DC decides to fight at light heavyweight before he fights Brock, then I think you see Jon versus DC. I think those are the two logical options, I just don't know for sure which route they go."

"[Jones] wants his light heavyweight belt back. Daniel has both of them. Daniel is saying he's going to wait until he fights Brock, so I don't know what's gonna happen."
"Bones" could return to action as soon as October, although Kawa would be happy if Jones fights before years end. There has been much speculation that Jones would step right into the vacant main event slot of UFC 230 on Nov. 30 in New York. However, Kawa said that is unlikely to happen at this point.
"There's some things we're working out with the UFC," Kawa said. "So there's some factors going into that. It has nothing to do with anyone telling us we can't. There's just some things we've got to come to an agreement on. And I just don't think that UFC 230 is going to happen."
Cormier previously stated last week on UFC Tonight that he has moved past the feud with Jones. Although he would not rule out a third fight with Jones.
At 31 years old Jones seems likely to fight at light heavyweight in his first fight back. He has been fighting at 205 pounds his entire career, though he has considered moving up to heavyweight. Jones held the UFC's 205-pound title from 2011 to 2015 and Kawa said that gold is what he'd like to obtain again. It's just a matter of who the opponent will be and what timeframe.
"Cormier is either gonna fight him at light heavyweight or Cormier is gonna fight at heavyweight and wait for Brock," Kawa said. "I don't know what route he's gonna go."
If you enjoyed this story, please share it on social media!