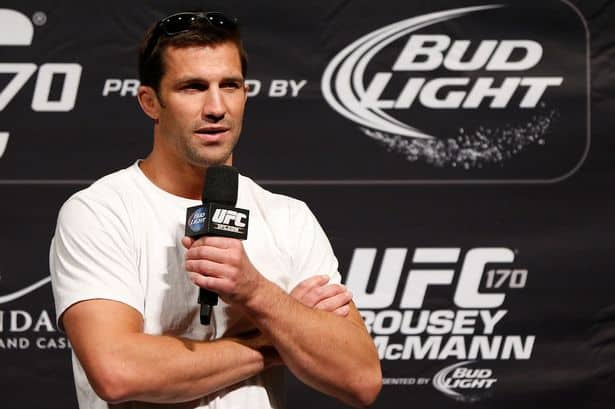 UFC middleweight Luke Rockhold recently appeared on longtime UFC ring announcer Bruce Buffers podcast and during the interview, the Reebok fighter kits were brought up.
Many fighters have been raving about the kits and some have been against it for many reasons. When the UFC unveiled the kits on Tuesday, UFC President Dana White raved about the kits and the input that the fighters gave them about the kits.
Except for one… Luke Rockhold.
"I haven't put the attire on yet," Rockhold told UFC announcer Bruce Buffer on his podcast. "I spoke with a couple people in New York, friends of mine, [UFC light heavyweight champion] Daniel Cormier and [welterweight champion] Robbie Lawlor. They seem to like the attire. They say it's very nice and comfortable. I just saw it this morning and it looked good.
"My worry is the individuality of the sport. Everyone is blending together now. Even with the countries and color variations. Everyone just blends together it seems like and I'm afraid that fighting is going to lose its individuality."
Rockhold went on to talk about the fighter entrances being a big part of UFC events and what they wear to the world famous Octagon before going to war.
"It's a combat sport," said Rockhold. "You see boxing and the flamboyant characters that [walk] out in their ensembles and big wardrobes and stuff. It's fun. It's part of the game. That's one thing I'm scared it might lose."
Fighters have always showed their true characters when making it to the cage. Donald "Cowboy" Cerrone wears a cowboy hat and Khabib Nurmagomedov wears a wig. It's just part of their characters and Rockhold is a fan of it.
"Is it going to be limited? Is Khabib going to able to wear his wig? Tom Lawlor and his walkouts? That's a huge part. People love these certain walkouts, these characters. That's going to be no more."
You can listen to the entire podcast here.
With the first Reebok fighter kits going in effect next Saturday at UFC 189, it will be quite a change to what we've seen in the past to say the least.