Like many middleweight contenders, former 185-pound champion Luke Rockhold isn't pleased with the current state of the division.
Instead of fighting one of the few very deserving contenders, champion Michael Bisping will instead take on former longtime 170-pound king Georges "Rush" St. Pierre at a date and venue that has yet to be confirmed despite the fight being announced by UFC President Dana White this past March. St. Pierre hasn't competed since scoring a highly controversial decision victory over Johny Hendricks at UFC 167 in 2013 and he has never competed at middleweight.
It's understandable why the top contenders in the middleweight division would be angered by the UFC's decision and Rockhold recently said that new owners WME-IMG are simply looking to pay off a debt after purchasing the promotion for a record setting $4.2 billion last year:
"I don't know, man," he told Ariel Helwani on The MMA Hour when asked about his situation. "You can't predict anything these days. So, [the UFC is] just chasing to pay off a debt really, is what they're doing, trying to put these megafights together that don't make sense. I don't know. You never know what they're going to do these days. Who knows."
Rockhold was scheduled to rematch former Strikeforce champion Ronaldo "Jacare" Souza late last year, but he was forced to withdraw from that fight after suffering a knee injury.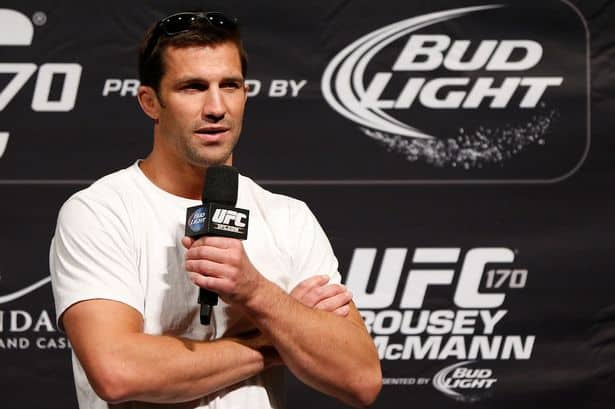 Now, Yoel Romero is the division's rightful No. 1-contender, while No. 3-ranked Robert Whittaker and No. 4-ranked Gegard Mousasi have been making waves as well.
As far his fighting future goes, Rockhold sounded adamant when saying that he isn't interested in fighting unless an interim title is on the line or unless Bisping is matched against a top contender. The 32-year-old also advised Romero, Whittaker and Mousasi to follow his lead:
"If they're not putting an interim title on the line, or if they're not making Bisping fight a contender, I'm not fighting anybody," he said. "And so should the rest of the division, too. What's the point? Without me, Mousasi, Yoel, and Whittaker? I think everyone should just stand their ground, and say f*ck you. Put a title on the line or else, f*ck, you don't even have a division."

"I think everyone is already on strike, aren't they?" he said. "We're all waiting on a title. Whittaker's down. I've voiced my opinion, and I think Mousasi should stand his ground too. I mean, without us you have no f*cking division. Make something happen."
Rock hold did, however, admit that he prefers a fight with Whittaker over a fight with Mousasi if he is indeed going to return sometime soon:
"I asked for the Whittaker fight," Rockhold said. "I think that's a more clear cut, straight path to the title. Mousasi's coming off…you know he looked good, against Weidman, but there was some controversy at the end. Then you got Whittaker who knocked out Jacare. It's pretty clear-cut. You go put that guy away, and you don't have to worry about anybody else trying to jump you."
Do you agree with Rockhold's comments and who would you like to see him fight next?