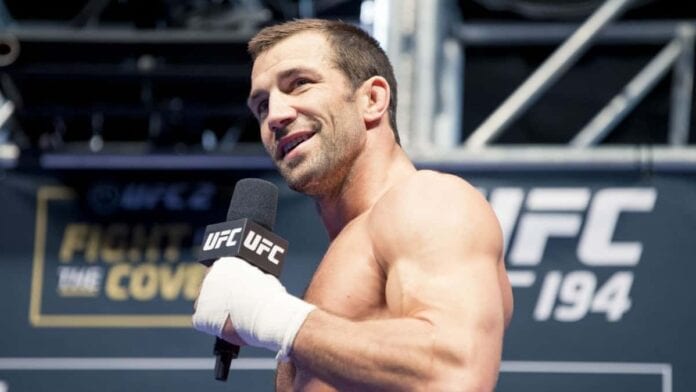 Former UFC champion Luke Rockhold isn't really sure what his next move will be when he returns from a partially torn ACL sometime this year.
The American Kickboxing Academy (AKA) standout has been out of action since he was shockingly knocked out by Michael Bisping at June 2016's UFC 199, a bout that sent the UFC 185-pound division into all-out chaos.
"The Count" decided to defend his belt against No. 14-ranked Dan Henderson in his retirement fight at October's UFC 204, and then eschewed a defense versus consensus number one contender Yoel Romero in favor of a much more lucrative bout against returning former welterweight king Georges St-Pierre.
That's left the 185-pound fray, one of the few divisions in the UFC with a number of clear top contenders, in a state of disarray and uncertainty, and Rockhold addressed the chaotic state during an appearance on this week's "UFC Tonight" (via MMA Junkie):
"It's chaos, isn't it? I think they're running down a slippery slope. Things could easily get out of hand, you never know what these guys are going to do. Georges isn't going to fight anybody in the top of our division if he wins this fight. Bisping could potentially be in the same boat."
Rockhold said he's saddened by the unexpected direction is division has gone in, as he believes it takes away from the true heart of mixed martial arts where the best fighters fight the best fighters:
"I'm bummed they took this route. It's kind of taken away from the heart of the sport. It's about the top guys fighting each other. This isn't WWE. This is fighting. It's what it's all about. So when they make moves like this, it definitely makes you question a lot of things of what you're doing and how you approach things."
As for his return, Rockhold isn't quite sure when and whom it will be against, as nothing in the UFC middleweight division seems to be for sure as of right now. Something that seems to be popular, however, is fighters like Romero and now Rockhold calling out for a title fight even though the belt will clearly be contested between Bisping and St-Pierre.
Still, Rockhold said he would be willing to fight Romero for the belt:
"There's a lot of fights happening and everyone is kind of tied up, so it just kind of depends what their thoughts are," Rockhold said. "I know Yoel's out there waiting. I don't know what his program is exactly, but if they want to put a real belt on the line I would gladly go fight Yoel for it."
An admirable goal for sure, but like Romero's prior request, it doesn't seem likely in any sense that the UFC will decide to create another interim title for them to fight over when the real belt is being fought for just because they don't like it. The situation is a sticky one indeed, and it doesn't seem to be one that will have any immediate closure attached to it, especially if St-Pierre wins.
The longtime former welterweight ruler has said he's looking for the biggest fights possible, and those perceivably don't include bouts with top-ranked middleweight bruisers like Romero, Ronaldo "Jacare" Souza, and Rockhold.
Where is the middleweight division headed? Like Rockhold said, the only thing that is certain right now is that it's simply chaotic.