The Unexpected: How UFC Fight Night 88 Shook The 135-Pound Division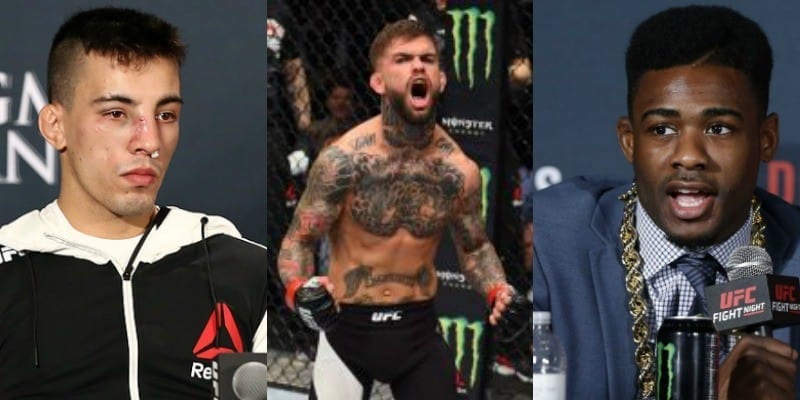 As fight fans, we often feel as if we have everything figured out – or if we can confidently predict who's going to win this fight or who's going to win that fight, but we are also continuously reminded that anything can happen when two warriors are locked inside of a cage.
This was quite evident at last night's (May 29, 2016) UFC Fight Night 88 card from the Mandalay Bay Events Center in Las Vegas, Nevada. The card featured a plethora of intriguing fights from top to bottom, but all eyes seemed to be on the suddenly rejuvenated bantamweight division.
The featured Fight Pass preliminary bout as well as the evening's main event featured pivotal scraps in the 135-pound division, and the masses appeared to be confident in how they would play out. Early on, previously surging prospect and No. 4-ranked contender Aljamain "Funkmaster" Sterling squared off with the ultra-experienced, but under-credited veteran Bryan "Kid Lightning" Caraway.
Sterling had been riding a hot wave as of late, and had begun to grow as a star with his unique fighting style and charismatic personality. Making his first walk to the octagon since signing a new contract with the promotion, many expected the 26-year-old New Yorker to continue his trek towards a title shot.
Later on in the night, the main event played host to a highly intriguing clash between two previously undefeated young rising contenders in Brazilian Thomas Almeida and Cody "No Love" Garbrandt.
Heading into the bout, Almeida packed an impressive 21-0 professional record with 16 finishes, and held the No. 7 spot in the 135-pound rankings. Garbrandt, on the other hand, while looking strong as of late, was unranked and held a perfect record of 8-0.
Needless to say, many predicted that Almeida would continue his brutal streak, and keep his momentum rolling. Once again, however, the fight game proved to be unpredictable – throwing a curveball to the fans and leaving us with a night of unexpected, yet exciting results.
Caraway would end up controlling and out-grappling Sterling in the later rounds of their bout to earn a decisive decision victory. With the victory, "Kid Lightning" derailed Sterling's momentum and title hopes for now, and possibly launched himself into the title discussion, although it still appears as if he's received a lack of attention and a lack of credit.
In the main event, it's safe to say that the underdog stole the show. Garbrandt came out firing and floored Almeida with a devastating right hand in the first round. The Brazilian simply had nothing to offer the American knockout artist. In a night where we had expected a future title contender in Sterling to shine and a young contender in Almeida to continue his rise, we were left with the opposite: a crafty veteran showing us the value of experience, and a young American establishing himself as a true threat.
So where does the 135-pound division go from here? It's hard to say. Sterling and Almeida will likely bounce back as they both represent young talents.
Should Caraway be awarded the next shot at gold? Could "No Love" shoot up the rankings into title contention after one massive win? Only time will tell, but UFC Fight Night 88 undoubtedly taught us a lot us about the future of the 135-pound fray.
Perhaps we should accept the fact that mixed martial arts is highly unpredictable, although that may very well be what makes this sport as breathtaking as it is.
And at the end of the day, if we, as fight fans, are going to expect anything of the fight game, it should be the unexpected. Last night showed us that more than once.