Khabib Nurmagomedov Batters Edson Barboza In Dominant Beatdown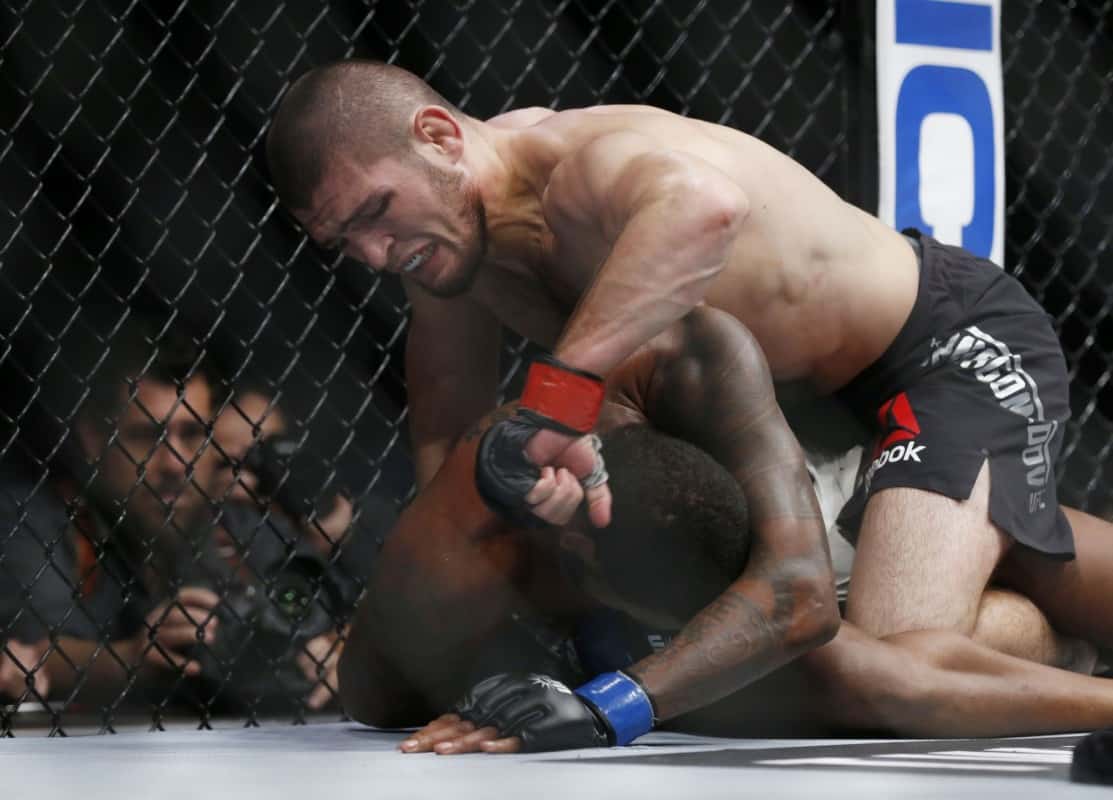 A title shot may have been far from certain for the winner, but Khabib Nurmagomedov and Edson Barboza still met for top positioning in the puzzling 155-pound division in the co-main event of tonight's (Sat., December 30, 2017) UFC 219 from the T-Mobile Arena in Las Vegas, Nevada.
Long hailed as the lightweight division's uncrowned ruler, Nurmagomedov came into the fight with a shroud of doubt on his shoulders after an embarrassing failed weight cut forced him out of his UFC 209 interim title fight with now-interim champ Tony Ferguson. That coupled with a seemingly never-ending stream of injuries in training had limited the dominant Dagestani Combat Sambo champion to only two fights since 2014.
Adversity aside, 'The Eagle' still boasted a spotless 24-0 record in MMA.
Barboza, on the other hand, had quietly been racking up big wins against competition arguably much higher than that of his opponent's recent bouts. He knocked out Beneil Dariush with a legitimate 'Knockout of the Year' contender in his last bout at UFC Fight Night 106 in March after knocking off former champions Anthony Pettis and Gilbert Melendez. He wasn't in the media nearly as much as the polarizing mat wizard he was to meet at UFC 219, making this a potential spot for him to finally launch into MMA stardom.
The awaited bout kicked off with a low kick from Muay Thai striker Barboza. Khabib kept up his trademark pressure, but Barboza slapped his kick again. Khabib shot for a takedown but Barboza avoided for the time being. Khabib scored a big punch and finally got ahold of Barboza against the fence. Barboza avoided effectively and landed an uppercut followed by a body kick. Khabib landed a rushing combination and again sought the takedown, but this time he got it. Khabib rained down elbows and punches with his infamous ground game.
'The Eagle' passed to side control and threw an absolutely huge shot. He went to the mount and began landing more. Big shots came down again and again as a beatdown began with Barboza mounted and controlled. The onslaught continued as Khabib briefly went for a choke and ended a dominant first frame with more huge strikes.
The second round kicked off with a low kick from Khabib. Barboza threw a body kick and Khabib stalked him down. Jabs found a home for Khabib followed by more strikes, and the Dagestani smashing machine landed punches from the clinch. Khabib broke and pressed forward on a badly damaged Barboza, who still landed a stiff kick. 'The Eagle' ground Barboza and began raining down more shots from all angles as he smothered Barboza relentlessly to end the second.
In the final frame, Barboza snapped a low kick. Khabib rushed forward with a flurry that landed and transitioned to a takedown attempt, which Barboza defended well for a prolonged amount of time. A hard kick and a right landed from Barboza, who went for a takedown of his own. But Khabib again ground the fight on his terms, raining down more damage. Never-ending right hands landed until Barboza got up to try a knee. An amazingly tough Barboza somehow lasted the full 15 minutes, but Khabib clearly locked up a dominant unanimous decision win with one of the more lopsided scores we've ever seen in the Octagon.
Final Result: Khabib Nurmagomedov def. Edson Barboza via unanimous decision (30-25, 30-25, 30-24)