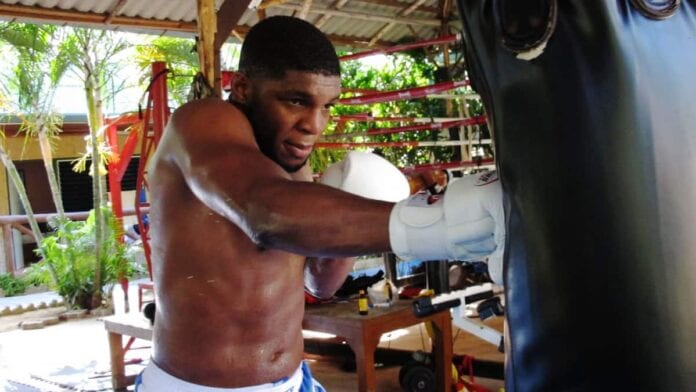 Join us here at LowKick.com for the K-1 MAX Live Stream of the 2014 World Championship Final on Saturday October 11th at 11:45 AM ET
The K-1 MAX World Championship finals will go down tomorrow (Saturday October 11th, 2014) in Pattaya, Thialand. The event was originally scheduled for July 26th, but weather conditions forced the move to this weekend. With not a lot else going on in the world of combat sports this weekend, the kickboxing viewer ratings might just go up a few points.
It also helps that the video is available free to watch online. The head of the show is a feature -70 KG bout between 21-year, 249-fight Muay Thai veteran Buakaw Banchamek (previously known as Buakaw Por. Promuk). He takes on German Enriko Kehl in a rematch of their 2013 kickboxing showdown.
Elsewhere on the card is the UFC veteran and controversial knockout artist Paul Daley. "Semtex" will take on unfortunate foe Mohammad Ghaedibardeh in a K-1 superfight, as the British MMA star looks to improve to his 20th kickboxing win. Little is known of his foe for the evening, unlike Andrei "Bullet" Kulebin, who competes to add another win to his impressive record.
Kulebin is 64-5 as a pro, and has won amateur and pro titles between 51-64 KG, racking up a total of 18 championships in 185 combined fights. So, join us live at 11:45 AM ET, that's 16:45 GMT, for the K-1 MAX Live Stream World Championship Finals!
Results
In a rather bizarre evening of fights, the K-1 MAX 2014 finas really didn't live up to the billing. Firstly, half the fights were now even included in the live stream, then you have the main event scandal.
After going three rounds, headliners Buakaw Banchamek and Enriko Kehl were sent to a decider round. Only problem is, Buakaw was nowhere to be found. The Muay Thai legend simply left the ring, for a yet to be revealed reason. When it was discovered that he had left the building, officials had no other recourse but to disqualify Buakaw, and declare Kehl as the 2014 K-1 MAX champion. A very unsatisfying ending to say the least, and controversial to boot.
UFC and Strkiforce veteran Paul Daley also fought on the evening's live stream, beating Mohammad Ghadiabardeh by decision after losing the first round handily. It was a good comeback by "Semtex", as he continues to impress in his post-UFC career. There is much to be said about the K-1 live stream, including where the hell was Andrei "Bullet" Kulebin's fight? According to his record, the fight hasn't gone down yet. Meh
K-1 MAX Finals Fight Card

Enriko Kehl def. Buakaw Banchamek via DQ (Forefiet)
Paul Daley def. Mohammad Ghadiabardeh via Decision
Maximo Suarez def. Tural Bayramov via (T)KO in Rd. 2
Andre Amade def. Li Yankun via Decision