Justin Gaethje wants Charles Oliveira rematch over Islam Makhachev fight: 'I'd prefer him because he beat me'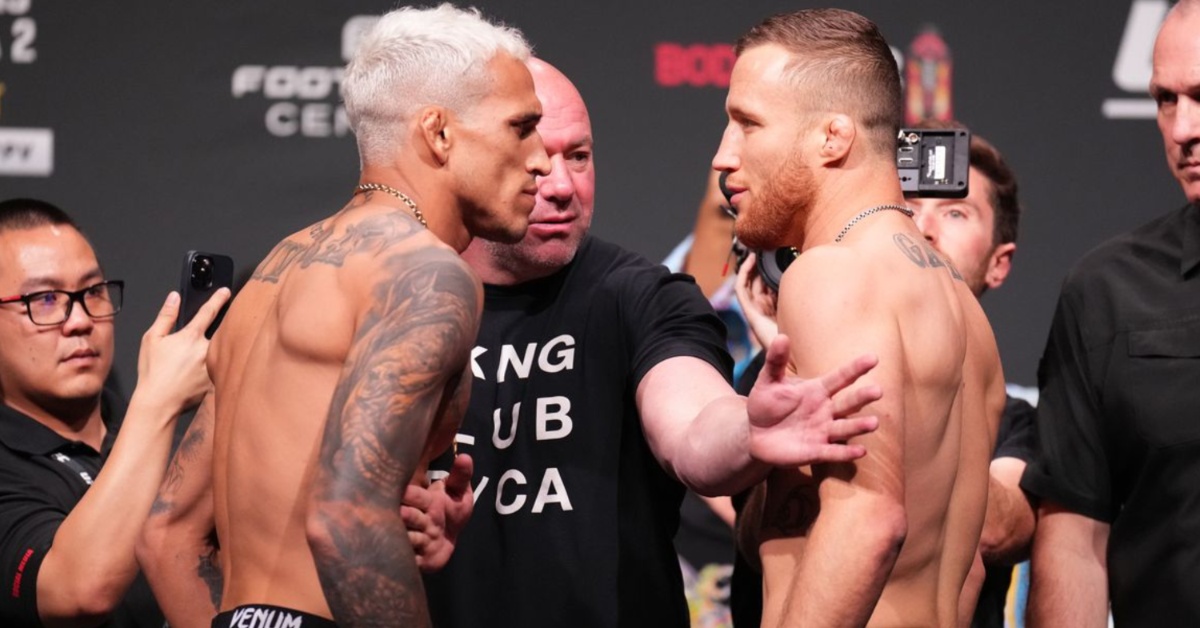 UFC lightweight Justin Gaethje wants Charles Oliveira to defeat Islam Mahkahcev to step up the perfect chance of redemption.
Last nights clash between Gaethje and Dustin Poirier did not disappoint the pre-fight hype. After what was a competitive first round with narrow misses from both men, Gaethje wasted no time to land the fatal blow a minute into the second round.
Gaethje had began to throw the head kick in the first round, but it wasn't until he put it behind a fake back hand that it landed cleanly. Poirier did not see it coming and send his unconscious body crashing to the floor, forcing referee Herb Dean spring to action before he could receive any more punishment.
The win now sets Gaethje up to face the winner of Makhachev and Oliveira for the lightweight title.
Justin Gaethje hoping for revenge
With Makhchev and Oliveira set to rematch this October in the main event of UFC 294, Gaethje will have to wait until it least the first quarter of 2024 for his shot. However, the 33-year-old doesn't seem to bothered about that, and is in fact already thinking about having his own rematch with Oliveira.
"I'd prefer Charles because he beat me," Gaethje said to the media. "I'm a competitor, this chance at redemption was amazing… It drove me to work harder, be ready more, but they're the best in the world, and I want to fight the best in the world. After the last fight, I couldn't see Charles winning [against Islam at UFC 294] but I can hope."
Gaethje and Oliveira squared off at UFC 274 in May of 2022, in which the latter would secure a first-round stoppage. After surviving a couple early knockdowns, Oliveira would land a right hand that would send 'The Highlight' to floor and would quickly jump on his back – securing a rear naked choke finish.
However, Gaethje has seemed to add more layers to his game and has had more mature performance in his last two outings.
Who wins in a rematch, Justin Gaethje or Charles Oliveira?