Chael Sonnen claims Justin Gaethje should fight Islam Makhachev at UFC 294: 'He's ready to go'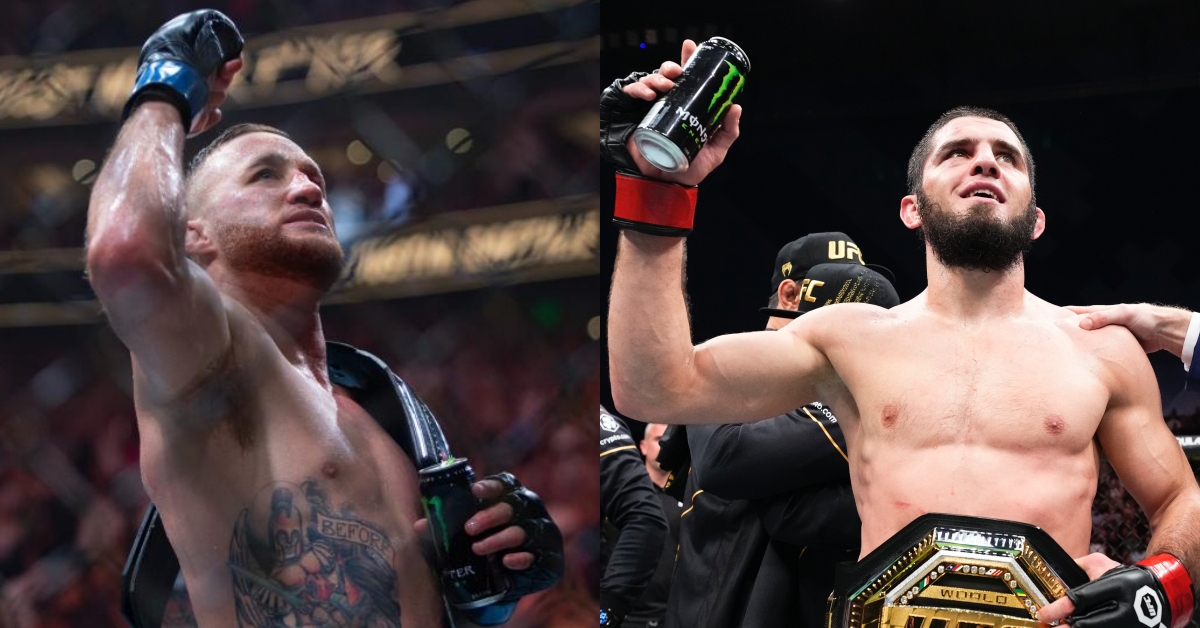 Chael Sonnen is very impressed with Justin Gaethje's recent performance over Dustin Poirier and is fully convinced that Gaethje is not only ready for UFC 294, but that Gaethje should take Charles Oliveira's place in fighting Islam Makhachev for the lightweight title.
UFC 291 was an absolutely magnificent card, headlined by one of the most desired rematches in years. Justin Gaethje and Dustin Poirier stepped into the octagon and delivered a truly fantastic fight. Things were so competitive in the first round, and it all looked like things could go either way. The second round started similarly to the first, with neither fighter really gaining a true upper hand. Then, as soon as the round began, it was almost just as quickly that it was over.
Justin Gaethje landed the most picture-perfect headkick to send Poirier crashing to the ground. He followed up the kick with a ferocious hammer fist, and the referee Herb Dead didn't waste any time: as he soon came baseball sliding in to protect Poirier from more damage and to stop the fight.
Justin Gaethje reigns victorious in the rematch, but now Chael Sonnen is eager to see him quickly turn things around for a title match at UFC 294
So, Justin Gaethje would prevail in the infamous rematch fans had been dying to see for so long. Now, even though he and Poirier are 1-1, many fans, and even Chael Sonnen himself would love to see Gaethje make the quick turnaround for a title fight.
"I'm not positive that Charles Oliveira wants to do that fight," Sonnen speculated on the ESPN post-fight show. "I don't want to be a spoiler but I read his Twitter account, he's saying he wants to fight Conor McGregor next. And the only reason I bring that to you: we at minimum have a backup. We thought that Justin Gaethje or [Dustin] Poirier, whoever came out would be the No. 1 contender. We also thought they'd be hurt. We thought this was going to be a bludgeon. We thought they were gonna be swapping stories in the hospital."
"This was a surprise finish," Chael Sonnen continued "He's (Justin Gaethje is) surprisingly fresh… I think he's ready to go in."
"The Charles Oliveira vs. [Islam] Makhachev fight was made because nobody thought — whoever won this fight was not going to make a quick turn to go back," Anthony Smith added on-air during the post-fight show. "And everyone knows that Gaethje does not like short-notice fights, he likes a lot of time to prepare, he likes a lot of rest. I think that if the matchmakers had known this would possibly be the result, they may have waited a little bit longer to match that Oliveira fight."
Even Justin Gaethje himself seemed pretty open to the idea of being a backup for the Islam Makhachev and Charles Oliveira fight, something that is extremely uncharacteristic for him. "I'd want to go watch it, yeah," he said when asked about Makhachev vs. Oliveira. "I don't think I'd want to be a backup. Unless they pay me a s— ton of money, then maybe. Maybe."
Even saying maybe is a far cry from what Gaethje would usually say: which would have been something along the lines of an emphatic no. So, things are looking very interesting in the lightweight division now. Poirier and Justin Gaethje will need to settle their infamous rivalry with a trilogy fight one day, and Gaethje is now a clear-cut number-one contender for the title.
Who would you like to see Justin Gaethje fight next?