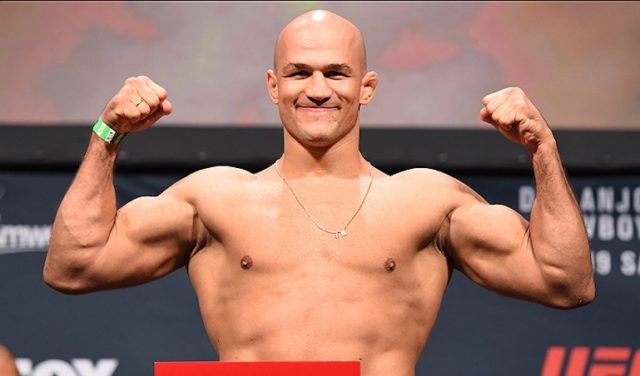 Junior dos Santos is still concerned when it comes to dealing with USADA.
The heavyweight star had been on the sidelines since he was flagged for a potential USADA anti-doping violation back in August of 2017. As a result of that violation, he was forced out of his UFC 215 barnburner against hard-hitting and former title contender Francis Ngannou.
Dos Santos' team clarified the situation by revealing he had tested positive for the diuretic Hydrochlorothiazide in the August 10 out-of-competition test.
Despite being flagged for a violation, he's still pro-USADA and wants MMA to be a cleaner sport. Make no mistake about though, he still doesn't know where the substance he tested positive for came from. It was recently revealed that Dos Santos is eligible to compete immediately.
This was revealed once a third-party testing organization deemed that Dos Santos' drug test that he failed was due to a contaminated supplement.
Although he may not be in his prime anymore, he is still a worthy challenger in the heavyweight division as he holds wins over names such as Mark Hunt, UFC heavyweight champ Stipe Miocic and Ben Rothwell.
In his last six bouts, he has been up and down as he has had some wins but also some losses to Cain Velasquez and Alistair Overeem.
He was last seen inside of the world famous octagon when he suffered a first-round knockout at UFC 211 last May in Dallas, Texas.
JDS is set to take on former WSOF champion Blagoy Ivanov in the main event of UFC Fight Night 133, better known as UFC Boise
"In my mind, they would quickly see that I had no fault and would clear me to fight again pretty quickly, especially because of how much of the diuretic they found, not even a performance-enhancing drug, and it being hydrochlorothiazide, a cheap and inefficient diuretic," he said. "If I wanted to hide something, I would have taken something way worse."

"I have a fight now, and every time [USADA] comes, I try to show them everything I'm taking. I show everything, because I'm kind of afraid. I don't know. It happened once when I did nothing. God forbid it happens again, so I get scared. That bothers me a lot," JDS said to MMA Fighting.

"I actually tried to stop using supplements, but it's absurd," he continued. "It's impossible. We need this. If you say an athlete doesn't need supplementation, that he can get everything through food, you're wrong. I don't know about other sports, but our sport is extremely hard, it's extremely tough. You can't train twice a day, tough training sessions that are devastating for your body. … Especially for a guy like me, a heavyweight, because it takes longer for your body to recover. It takes longer for your body to absorb all the [punishment]. It's not simple. You can't just not use supplements."