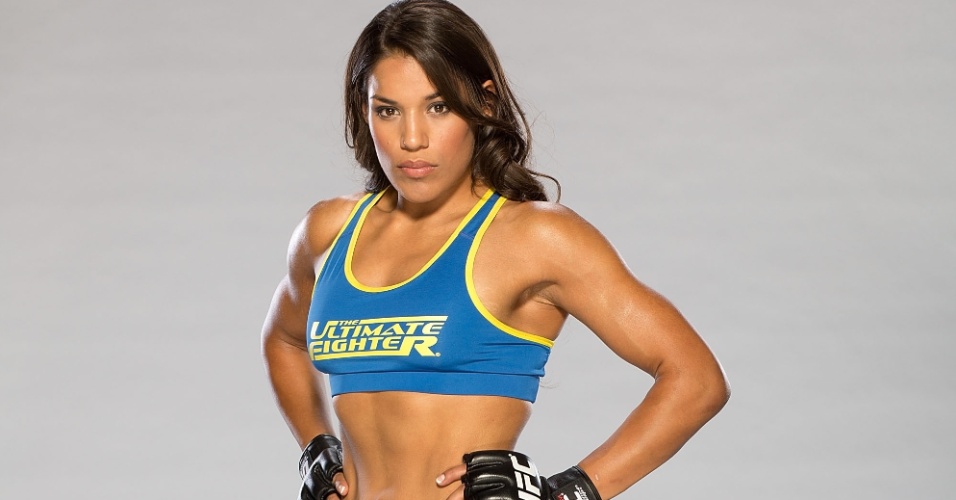 The Ultimate Fighter 18 winner Julianna Pena looked unstoppable in her run on the show. She upset rival Coach Ronda Rousey's first pick Shayna Baszler in the first round, then destroyed Jessica Rakoczy to lock up the contract at last December's TUF 18 finale.
The impressive victory got her the No. 10 spot in the UFC women's bantamweight rankings, and Pena was booked to face No. 9-ranked Jessica Andrade at UFC 171 on March 15.
News has come today, however, that Pena has unfortunately been forced to withdraw from the upcoming bout, but apparently that's the least of her worries. FOX Sports reported that Pena suffered a very serious knee injury engaging in an over-aggressive training session.
The details of the situation have since arisen, and Pena has torn her ACL, MCL, LCL, meniscus, and hamstring and could be out for two years after one of the more unfortunate injuries we've heard of. Ariel Helwani described the scenario on Twitter:
Julianna Pena's coach Rick Little told me her knee injury was the most gruesome he has ever seen in sports. She tore her ACL, MCL, LCL …

— Ariel Helwani (@arielhelwani) January 30, 2014
… meniscus, hamstring … rough. They are waiting for the swelling to go down in her knee and then she'll have surgery next week. Return TBD.

— Ariel Helwani (@arielhelwani) January 30, 2014
Apparently she trains 3 times a day. Can't get enough. Jumped into a midday training session a little too eager and the injury happened.

— Ariel Helwani (@arielhelwani) January 30, 2014
Pena will fly to Los Angeles next week to undergo surgery to repair the damage and then begin immediate rehabilitation. It's not the first time that Pena suffered a knee injury of this magnitude. She said she came back from a similar injury on her other leg:
"I tore my ACL and meniscus on the other side and came back to win TUF. I'll be back stronger than ever I hope."
But UFC President Dana White isn't sharing the optimism about the situation, noting that the whole horrific incident could have been avoided. He told Pena to leave that gym immediately:
What happened to @VenezuelanVixen at "her gym" is the most disgusting thing I have ever heard. Ranked #10 out for 2 years. #leavethatgymnow

— Dana White (@danawhite) January 30, 2014
Here's to hoping that Pena does come back stronger than ever, because her momentum was derailed just when it was at its peak. UFC women's bantamweights associated with TUF have had some bad luck lately, with Pena joining Cat Zingano on the sidelines after very serious knee surgeries.

There's no doubt Pena had a ton of resiliency to come back from her first setback of this kind, but can she ever return to the level she was fighting at given the sheer magnitude of her injuries?