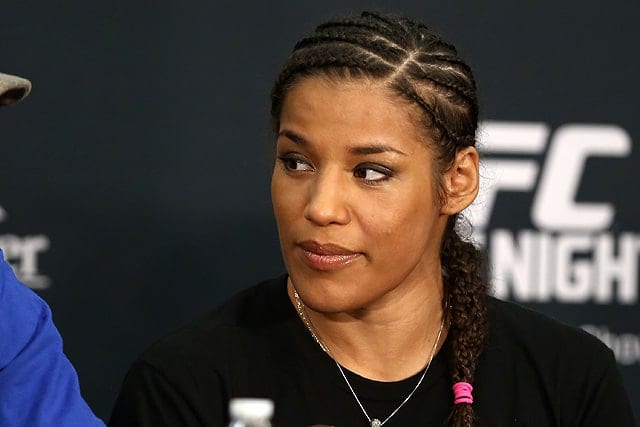 Rising UFC women's bantamweight contender Julianna Pena will not face any serious consequences regarding her arrest on two counts of assault last December.
She was arrested for allegedly kicking a few male employees of a Washington bar below the belt after they denied her friend and training partner Joshua Gow use of their bathroom to clean up his bloodied face from a drunken brawl, but it appears 'The Venezualen Vixen' won't pay much of a price if she keeps her nose clean.
If the fighter remains out of trouble for the next year, something her lawyer doesn't see being a problem, the charges will be completely dropped:
 "Frankly, in my view, charges should have ever been brought in the first instance," Pena's attorney Carl Oreskovich told MMA Fighting. … "I don't have any expectation that she'll do anything other than comply with it and get the case dismissed."
According to Oreskovich, the situation arose simply out of bad judgment:
"The circumstances that led Julianna into the bar were that she was seeking medical attention for her friend," Oreskovich said. "When it was denied, she reacted. Pretty simple. And things got out of control. I think there was some bad judgment all around."
As far as what lies ahead in terms of fighting, the former The Ultimate Fighter (TUF) winner recently told Submission Radio that she doesn't currently have a fight lined up, although a summer return date would be ideal:
"I'm not sure exactly, but I know it's going to be sometime in some months. So maybe sometime in the summer I'm assuming. But yeah, I'm just waiting to hear when my next fight is gonna be announced. I know that my legal issues are resolved and I'm just now waiting for the UFC to announce my next fight."
"The Venezuelan Vixen" has long been considered to be a serious threat to the 135-pound throne, although injuries and her legal issues have slightly delayed her expected progress. She didn't want to expand too much on her clearing up of the charges, but did say her lawyer enabled to not even have to go to court:
"It's still under wraps, it's just something that I would rather put behind me. What I will say, is that the matter was resolved and it's all taken care of now. So I didn't have to go to court, you know, I had a really great lawyer to take care of things for me and it's over and done with."
With that being said, Pena doesn't necessarily feel as if she's been forgotten about, but rather that she's seen as a 'sleeper' waiting to challenger Miesha Tate for the title:
"No, I don't. I just watched an interview today where Miesha mentioned me herself as a possible contender for her next fight. You know, I feel like she knows that, a lot of people that are diehards know that. Maybe not the casual fan, because all they know is Ronda and Conor McGregor and that's it, but I feel like I'm a secret shopper, I'm that one that everybody's sleeping on. And when it is my turn, then they will know who I am and I'm just anticipating that moment and I'm anticipating that time."
Despite the friendship between the two, Pena claims that there would be no issues with her fighting Tate given that it be for the title. However, she expects to fight at least one more time before earning her shot at divisional supremacy:
"Yes we have. We've discussed it several times and we discussed it primarily right after I won The Ultimate Fighter. And because we're friends, the deal was, the only conditions that we would fight each other, would be if she has the belt or if I have the belt. And now that she has the belt, I know that she's aware that, that was the agreement that we had decided on.
"And so I think it's now just a matter of who they decide who her next fight is. Whether she's gonna wait for Ronda, or if she's going to say she's going to take a fight against somebody else. And if they wanna put me in that title shot, I would love that. I would love nothing more than that. But if they want me to fight one more and then fight for the title, then I'll do that too. That's the impression that I'm under, is that they want me to fight one more time before I get my shot at the title. And it doesn't make any sense to me, but again, like I said, I'm biased."
It is assumed that Tate will meet Rousey for the third time in the near future while former queen Holly Holm also looms in the title race. If "Cupcake" does indeed clash with the "Rowdy" one, however, Pena would pick Tate to emerge victorious:
"I've always had a belief and extreme faith in Miesha as a fighter. And the first time she fought Ronda, I said Miesha's gonna win. And the second time she fought Ronda, I said Miesha's gonna win. So if they fight for a third time, I'm going with my girl Miesha for sure."
Do you agree with Pena's prediction, and how far away is she from a title shot?