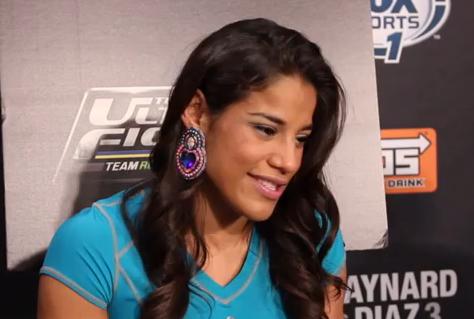 After nearly 15 months off recovering from a serious knee injury that derailed her UFC career, The Ultimate Fighter (TUF) 18 winner Julianna Pena finally has a return date and opponent.
UFC officials confirmed today (Tues., January 27, 2015) that "The Venezuelan Vixen" will face off with Milana Dudieva at April 4's UFC Fight Night 63 from Fairfax, Virginia.
Russian-born Dudieva was last seen defeating Elizabeth Phillips at last August's UFC Fight Night 48 from Macau, China, her third straight victory.
Making an improbable run to the TUF 18 title by submitting Team Rousey top choice Shayne Baszler and Sarah Moras before finishing Jessica Rakoczy via strikes at the show's finale, Pena was poised to take the still-growing UFC women's bantamweight division by storm.
But an unfortunate and controversial training accident where Pena tore her ACL, MCL, LCL, and meniscus put that on hold temporarily, and she made an absolutely shocking recovery from such a debilitating injury.
Early reports saw speculation that Pena would miss at least two years or more, but she has once again bucked the odds to return to the Octagon much sooner than what was initially forecast. Pena currently still sits at No. 11 in the official rankings.
Featuring a pivotal featherweight showdown between top-ranked contenders Chad Mendes and Ricardo Lamas and a lightweight co-main event between Benson Henderson and Jorge Masvidal, UFC Fight Night 63 will take place at the Patriot Center in Fairfax. With the announcement of "The Venezuelan Vixen's" anticipated return, the lineup currently looks very promising for a FOX Sports 1-aired card. Here it is:
Chad Mendes vs. Ricardo Lamas
Benson Henderson vs. Jorge Masvidal
Michael Chiesa vs. Mitch Clarke
Dustin Poirier vs. Diego Ferreira
Liz Carmouche vs. Lauren Murphy
Julianna Pena vs. Milana Dudieva
Luke Barnatt vs. Clint Hester

Shamil Abdurahimov vs. Timothy Johnson