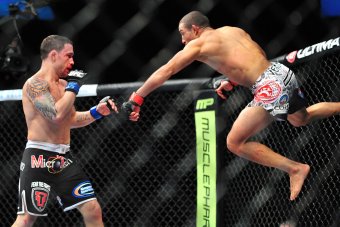 Jose Aldo will return to action at UFC 169 as he defends his Featherweight crown against Ricardo Lamas. The long-time boss at 145lbs. will have his hands full against 'The Bully', who is known for his tenacious work rate and heavy-handed style. Aldo is unbeaten in major competition, with his only professional loss coming in a 2005 Jungle Fights scrap against Luci Azevedo.
Lamas comes to the table with a 13-2 resume, his only losses come in the form of knockouts to Danny Castilloand Yuri Alcantara. 'Scarface' stopped by at Bleacherreport.com to discuss his bout at 169, and Lamas:
"I am in the gym training every day to be the best, my opponents change, but that doesn't change my work ethic or my drive to be the best fighter I can be. I want to be the best fighter I possibly can be and that requires working everyday inside the gym. I want to keep breaking records and become the best fighter in the world. I want to keep putting on exciting fights for the fans and help bring mixed martial arts to a new level."
"I don't care how Lamas got here," Aldo said. "He spoke up a lot and did what he had to do to get the fight. Basically his job is to promote himself, and he did a good job because he got the fight he wanted. It doesn't really matter to me how he got here. But he is a good fighter, though, and I'm definitely prepared to handle what he brings to the cage."
Many argue that Cub Swanson or Chad Mendes deserve the shot more than Lamas, and it will be interesting to see who gets the next shot at the belt-especially if Aldo is still at the top of the division. He has ruled the roost at 145 for so long now and already holds KO victories over both Mendes and Swanson.
"I don't really care about what people say right now," Aldo said. "My focus is on the fight on Saturday. I have to win that fight first then we'll talk about what comes next after this fight is over. So people can talk a lot about which fight they would like to see or who they would like to see me fight, but the only fight that matters to me right now is Ricardo Lamas on Saturday. It doesn't really matter to me. My focus is on Lamas and the fight I have on Saturday night."
I'd like to see Aldo move up to Lightweight to fight Anthony Pettis; not only because that would be a great superfight, but also because of the gruelling weight cuts that the Brazilian endures to make the Featherweight limit. Whatever the case, Aldo faces a stern challenge in Lamas, but is it any more threatening than what Mendes, Swanson, KZ, Frankie Edgar or Urijah Faber have brought to the table?
Aldo has the chance to solidify his place as the number one P4P fighter, possibly the GOAT, if he can stay in the win column in 2014. It all starts with Ricardo lamas in Newark, New Jersey.
Photos by Jason Silva and Gary A. Vasquez for USA TODAY Sports