Jose Aldo is set to engage in competition once again next week, but this time it won't be inside the UFC Octagon.
The former 145-pound kingpin is coming off his second loss in over a decade as he was finished in the fourth round of his featherweight title unifier against Max Holloway last month (Sat. June 3, 2017). After seeming to control the opening rounds of the bout, the Hawaiian rocked "Scarface" with a nasty combo, and it was all downhill for the Brazilian from there.
Just over one month later, however, Aldo is set to feed his competitive drive once again as he is slated to take part in the  IBJJF's Master International Championship in Rio de Janeiro, Brazil. The tournament runs through July 28th to the 30th. The federation made the following announcement yesterday (Thurs. July 20, 2017):
""We are very honored to have the great Jose Aldo Junior registered for the Master South America," IBJJF said. "We can't wait to see this MMA legend representing the Nova União team in the light division."
Aldo will be competing in the lightweight division of the tournament, along with three-time world champion Celsinho Venicius. Aldo has a black belt in Brazilian jiu-jitsu under longtime head-coach and manager Andre Pederneiras. He hasn't competed in a jiu-jitsu rules tournament for over a decade.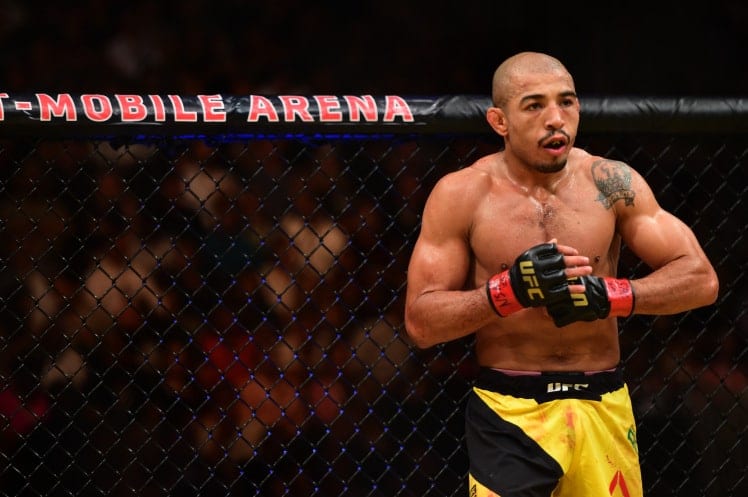 He defeated the now-highly-decorated Rubens Charles "Cobrinha" as a brown belt back in 2004 before winning the CBJO gold, and then transitioned into mixed martial arts (MMA).
Aldo has only ever lost two fights in his UFC career – a 13-second knockout loss to Conor McGregor for the featherweight title back in December of 2015, and to Holloway last month.