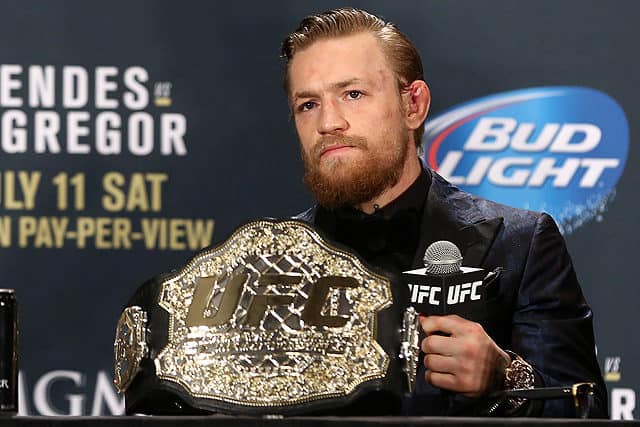 UFC interim featherweight champion Conor McGregor recently spent an unlikely TUF 22 (The Ultimate Fighter) stint opposite the ever popular Urijah Faber. What made the latest season's coach selection so befuddling to many was that the two would not fight at the end of the show, but they've proved that a season concluding scrap is not always necessary when trying to make entertaining TV.
A confrontation between Faber and 'The Notorious' before his UFC 189 clash with Chad Mendes proved the catalyst to their run as opposing coaches on the reality TV show. Perhaps more influential would be the fact that McGregor's UFC 194 opponent Jose Aldo probably had no interest in the position of TUF coach. Recent footage of 'The California Kid' and his Team Alpha Male stable mate Cody Garbrandt involved in a scuffle with the Irish star brought more attention to the show. Faber tells Alpha Male's Justin Bucholz, as transcribed by BloodyElbow, that the the on-set clash all started with McGregor slating TJ Dillashaw:
"Spoiler alert: Conor [McGregor] is talking a bunch of crap and he's friends with Dana [White] and Lorenzo [Fertitta], so we had this conversation, but they're not showing it on the show. They're trying to build the golden boy up, there's editing, there's mixed up fight orders, there's conversations that were started, but you only see a portion of it, etc."
"So me and Conor are having a conversation, and he says, 'What's up with Duane [Ludwig] like talking a bunch of crap about your team? Isn't that weird?' I'm like, 'Yeah, it's weird, it's a long story. I'd have to sit down to even tell you about it.' So that was enough, that little smidgeon, for Conor to do some asking around or whatever, and then he starts like needling at it. Cody [Garbrandt] gets up and actually stands up to him because T.J. [Dillashaw] leaves and he starts talking about 'T.J.'s a snake in the grass' and all that stuff."
At the time, Dillashaw was still based at Team Alpha Male in Sacramento, CA, and hadn't yet revealed the sensational news that he'd be departing for pastures greener in Denver, Colorado. Faber goes on, revealing a funny exchange between David Teymur and McGregor:
"You know Cody doesn't take crap from anybody, and he said, real quick-fire, because he's a bad mofo, so he's sitting there and he's already fuming because Conor's been needling and needling and needling. Conor starts saying to Fili, 'What are you gonna do about it?' and you're not allowed to pick a fight — you're not allowed to fight on the show. Cody says, 'I'll do something about it, motherfucker,' [laughing], but as he's saying that, he's standing up and rushing into Conor, so Conor stands up and Cody just fuckin' chest bumps him and knocks him back a little bit."
Yeah, and now everyone is like this, all going back and forth, and David Teymur doesn't understand English well enough yet, he says, 'Take off your dirty underwear because I'm gonna fuck you!' [loud laughing] That fucking made everybody bust up laughing. We're about to get in this fight or whatever, and then it all calms down. That was fun enough, you know? He goes, 'I'm gonna fuck all you guys! You will suck my dick tonight!' We're all laughing so hard. Oh my gosh, man, it was much needed at the time."
It sounds like both coaches and everyone involved had a lot of fun filming TUF 22, and it's translating in to quite a decent season so far. Finally, 'The California Kid' recounts the time that his now ex-buddy Duane Ludwig used to slang 75 cent peanut butter on the reception of the TAM base:
"So Duane opened this swap market at the front desk, because when he moved here, he was broke as a damn joke. He's trying to do everything in his power to make a dollar. He's jumping over a dollar to pick up a penny all day long. He gets free peanut butter from a peanut butter company — it must be a friend from Colorado or whatever — so he's just eating peanut butter all day, and then he starts slangin' 75 cent peanut butter packets at the front desk alongside everything else under the sun. I felt bad for the guy. I was paying him for privates, and I'm like, 'This guy needs some money,' you know? He's leaving every weekend to do a seminar, charging, but only making a couple hundred bucks here and there. Anyway, he was selling peanut butter that he got for free at the front desk, that's all. Can't blame the man for his hustle."
If you enjoyed this story, please share it on social media!