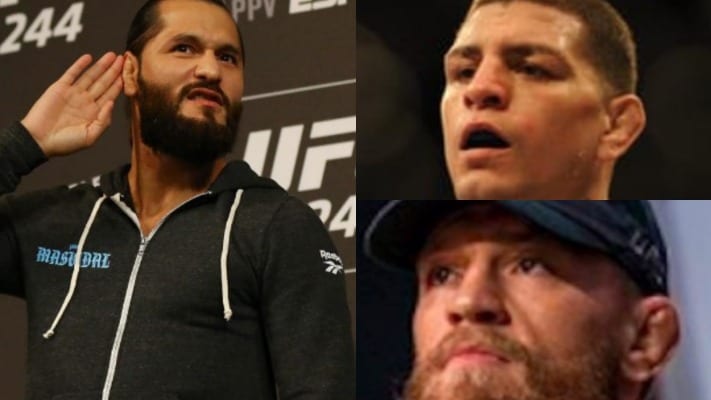 It's not surprising that Jorge Masvidal would love for his next fight to either be against Nick Diaz or Conor McGregor.
Masvidal has enjoyed an electric 2019 with three stoppage wins over the likes of Darren Till, Ben Askren and Nate Diaz. The fight against Diaz at UFC 244 notably headlined Madison Square Garden and cemented "Gamebred" as one of the promotion's newest mainstream stars.
Masvidal now wants to keep things going by continuing to fight the big names. The elder Diaz brother in Nick called him out recently as he took issue with Masvidal's comments towards his little brother.
Although Nick hasn't fought since 2015, there seems to be a drive from his side in returning to the Octagon and facing Masvidal. And that's music to Masvidal's ears:
"Huge fight. It has a huge backstory to it too," Masvidal said on Food Truck Diaries. "Growing up, me and Nick both fought in Strikeforce and different shows. And I always liked Nick's style as well. Always liked how he scraps. Never thought he was the most skilled guy but I think he's one of the guys with the biggest heart. He'd lay it all out there. Win or lose, he'd always give it his all.
"If he's got that fire lit under him, I know we're going to have a fight. I know Nick's a dog, he's going to take whatever I can give and I'm going to give him everything I got. … It's a fight that pumps me up. Wherever you want to do it. … I don't care where the fight is at."
Another big fight is the always-lucrative money fight with McGregor. It's a bout that has been talked about for a while but in the end, Masvidal doesn't think the Irishman wants to take a chance against him.
"Oh, would love that fight," he added of McGregor. "The bank account increases more. But I'm not a bully man. If the dude don't want it, I understand.
"He was picking Nate hard and then he was talking about fighting the winner. He doesn't want this, man."

Who do you think Masvidal should fight next?