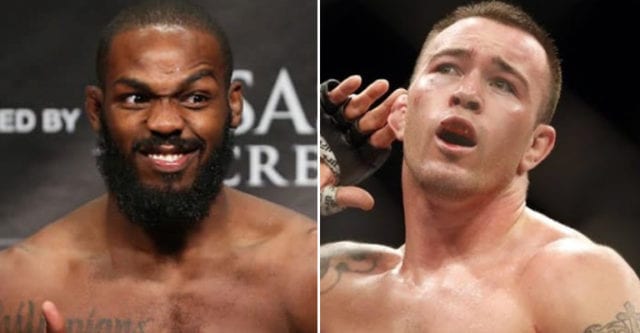 Earlier this week, interim UFC welterweight title challenger Colby Covington made legendary former light heavyweight champion Jon Jones the subject of his never-ending stream of vitriol and smack talk.
But "Bones" was a person that "Chaos" knew much more about than most of his targets, as the two were roommates back during their collegiate wrestling days at Iowa Central Community College. With Jones' once-decorated MMA career now shrouded by constant drug issues involving substances both performance-enhancing and recreational, Covington detailed that Jones supposedly did steroids all the way back in college:
"He just started doing steroids and always freaking had roid rage," Covington said. "He'd come home and he'd yell at me 'oh what the f–k are you doing Colby, do the dishes' and he would just like freak out. I would see this roid rage in his eyes and I would just be like 'what's your deal, man?'.
Jones has apparently had enough of Covington's callouts, as he took to social media today to smash his old roommate with a brutal meme of him forcing the UFC's latest big-mouth bad boy to do the dishes as he claimed:
Jones then took to Twitter to get the fans in on his brutal response to Covington, requesting they retweet the following if they were praying for RDA to defeat Covington tomorrow:
Retweet if you're praying RDA pulls this off tomorrow night.

— Jon Bones Jones (@JonnyBones) June 8, 2018
Jones probably didn't find it too difficult to find supporters of that post, as it seems the majority of the MMA world wants to see Covington lose and bad. He's making money off of people hating him, so he certainly won't turn down the attention with his any-publicity-is-good-publicity philosophy.
Awaiting punishment on his latest failed USADA drug test, Jones took one final, brutal shot at "Chaos" by offering $50,000 to anyone who hit Covington with a boomerang on his way to the cage -a reference to his hilarious run-in with Fabricio Werdum in Sydney, Australia – in a tweet that has since been deleted: