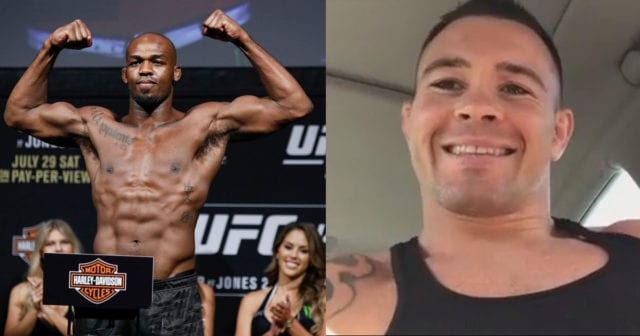 Colby Covington has no issues with speaking his mind. Covington is known for his trash talk and went after a big name in his latest rant.
The rising contender is slated to fight former UFC lightweight champion Rafael dos Anjos for the interim welterweight title at the upcoming UFC 225 pay-per-view event.
During a recent interview with Jim Norton and Sam Roberts to promote the fight, Covington brought up the fact that he and former UFC light heavyweight champion Jon Jones were roommates at Iowa Central Community College.
He claimed that the reason for his falling out with Jones started once Jones allegedly did drugs including PEDs.
The former UFC light heavyweight champion's history has been well documented, and it's lengthy. He failed an in-competition drug test at UFC 214 after he beat Daniel Cormier by third-round TKO in the main event on July 29 in Anaheim, California on PPV (pay-per-view) to regain the title.
Jones tested positive for Turinabol. As a result of that failed drug test, he was stripped of the UFC light heavyweight title and removed from the official UFC rankings.
The former champion has been stripped of three different UFC belts (also a record) and failed multiple drug tests by USADA to go along with myriad legal troubles outside of the cage.
"Me and Jon lived together two years in Iowa Central Community College together. In the same dorm, in the same bedroom, we shared the same room. We were like best friends when we first met each other," Covington told the 'Jim and Sam Show' on Tuesday (transcript courtesy of MMANytt).

"He just started doing steroids and always freaking had roid rage," Covington said. "He'd come home and he'd yell at me 'oh what the f–k are you doing Colby, do the dishes' and he would just like freak out. I would see this roid rage in his eyes and I would just be like 'what's your deal, man?'. Cause he was wrestling at 197 [pounds], he was a national champ in junior college and he was trying to move up and go to heavyweight. So he thought he had to do a cycle of roids and I just lost a lot of respect for him."

"He started partying a lot. Doing ecstacy, doing all these drugs and the rest of history. He's been doing them since college."

"We had a pretty big falling out when I left junior college," Covington explained. "He lost his cool one day and I wasn't cool with it. You don't treat me like that, you don't treat anybody like that, especially a friend. My mom used to come and cook you meals, she'd fly you out to Oregon. She'd do favors for him like my family took him in like a family member of his own. Then the way he treated me is not cool but he was partying a lot and he just wasn't the same person."
This led to Covington going on the attack and taking some personal shots at the former UFC light heavyweight champion.
"Anything he says in the media or in interviews it's a front. He's one of the fakest dudes I've ever met," Covington said. "He says he's all about God and all of this…if you're all about God, why are you out there cheating on your wife, doing all these stupid things. You're not a guy of God so stop pretending to be. Just embrace the villain role, embrace the bad guy person you are and you'd probably get a lot more money."

"I think a lot of people knew. He was wrecking Bentley's that the UFC gave him, he [had] hookers in the back of his car partying, cocaine bingers all night and then he was fighting the next day five rounder's," Covington said.

"Make no mistake about it, it's just not possible to do that at that level without putting some chemical, performance enhancing drug in your body."