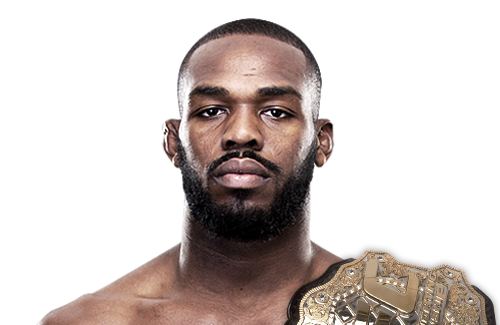 When speaking about the best pound-for-pound fighter to ever grace the cage, the first person that usually comes to mind is Anderson "The Spider" Silva, and rightfully so. With 16 straight UFC wins, 10 straight title defenses, and the owner of some of the most spectacular knockouts you will ever see, why wouldn't he be considered the greatest to ever do it?
Because one other man is gunning for that top spot, the title of being called the "G.O.A.T." and may be a lot closer than many of you think, if he's not there already. That man is reigning UFC light heavyweight champion and pound-for-pound king Jon "Bones" Jones.
Jon Jones is currently riding an 11-fight UFC win streak (it would be a 14 fight win streak if it wasn't for a DQ loss to Matt Hamill back in 2009) and has seven consecutive title defenses. He owns the most title defenses in the UFC light heavyweight division and has an almost spotless overall record of 20-1. Now you might be asking yourself, "Bones" has less title defenses and less consecutive UFC wins than "the Spider", so how could he possibly take the coveted title of being known as the best ever?
For one, Jon Jones is the youngest UFC champion in the history of the company and will have more time inside the Octagon then Silva. So eventually if Jones continues his dominance, he will certainly surpass Silva's records and become the greatest despite any fans or media member's opinion. But, in my opinion Jones has already gotten to that point.
He has been just as dominant as Silva and has done it against arguably better competition, which is my main selling point. Jones has defended his title against five former champions, Rashad Evans, "Rampage" Jackson, Vitor Belfort, Lyoto Machida, and "Shogun" Rua, to Silva's three which includes Rich Franklin, Dan Henderson, and Vitor Belfort.
Besides those champions, "Bones" has taken out a plethora of extremely talented mixed martial artists in his title reign. This list includes: Chael Sonnen, Alexander Gustafsson, and Glover Teixeira.
Silva's list of title defenses that does not include the former champions looks like this: Yushin Okami, Demian Maia, Thales Leites, Patrick Cote, Nate Marquardt, and Travis Lutter. Don't get me wrong, that is a tough list of fighters, but the talent level that Silva faced just does not compare to the talent "Bones" has faced, in my opinion. A great example of this is Chael Sonnen. Both men fought Sonnen, with very different outcomes.
Silva was dominated by Sonnen for over four rounds, and pulled off one of the best comebacks and finishes of all time. However, Sonnen exploited Silva's weaknesses. Despite the fact that Silva won more convincingly in their rematch, Jones absolutely obliterated Sonnen, knocking him out in the first round. That fact may make you think a little bit.
Another reason for Silva being considered the greatest of all time is because of the deadly display of skills he showcased which resulted in a highlight reel of finishes that will be remembered for ever. His triangle choke win over Sonnen, and the front kick to the face of Vitor Belfort are just two of Silva's best finishes. Silva had seven finishes in his title reign. Jones, on the other hand, has four finishes in his seven title defenses. They may not compare to Silva's, but they are quite a good example of just how good Jones is.
In my opinion, there will never be another fighter like 'The Spider'. The things he has done inside of the octagon can never be replaced and never be forgotten. He is without a question one of the best fighters of all time and a Hall of Famer. I think many can agree that Jones is on his way to becoming the "G.O.A.T.". If he keeps doing what he is doing, it is inevitable. However, when you look at the facts, he may be there already; and if not, he sure is a lot closer than we may believe.
So what do you think? Is "Bones" already the greatest fighter of all time, or does he still have a ways to go?