John Fury warns KSI against planned slap attack on him after October fight: 'He'd have a very nasty dental bill'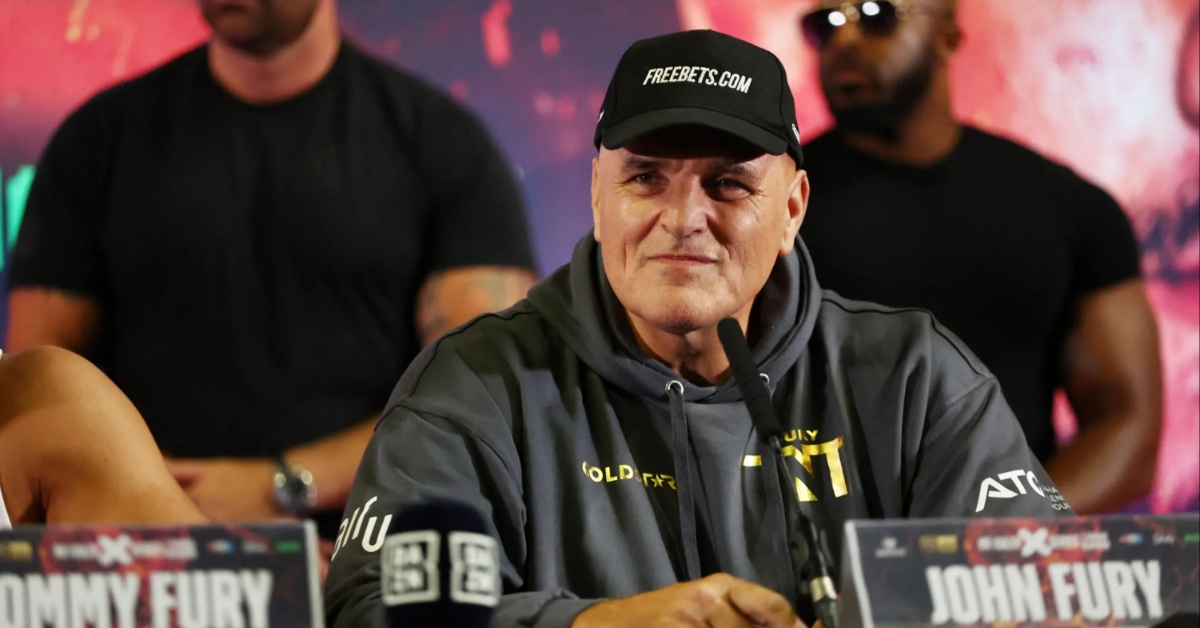 Veteran coach, John Fury, the father of WBC heavyweight champion, Tyson Fury and emerging boxing talent, Tommy Fury – has warned the latter's upcoming foe, KSI away from a planned slap attack on him ahead of his October boxing return, warning him that he'll face an expensive trip to the dentist if he follows through.
Fury, an iconic figure in professional boxing, wreaked havoc at a pre-fight press conference earlier this month between KSI, Tommy Fury, Logan Paul, and outspoken grappler, Dillon Danis – slamming a table and turning it over in a loss of temper during the press event. 
The latest stunt came in a long list of infamous moments from the heralded Fury, who also took off his top in the ring following his son's victory in Saudi Arabia last year – goading eventual opponent, Jake Paul who sat ringside at the event.
John Fury issues stark warning to KSI ahead of October fight 
Issuing a warning to KSI ahead of the former's boxing return against his son, Tommy Fury next month in England, John Fury has claimed the professional boxer, YouTube star, and R&B artist will have a trip to the dentist on his hands, if he tries to slap him as planned following the event.
"He's (KSI) never going to get to slap my titties," John Fury said. "I've been doing plenty of bench presses recently, anyway. Look, he'd have a very nasty dentist bill if he does. Because he wouldn't have had tooth in his cupboard because it'd been knocked straight to the back of his throat. Nobody can buck around on me, on one, unless they're paying a lot of money."
"And I know more about fighting and violence than him," John Fury explained. "I'd probably just pick him up, fire him into the crowd like a paper aeroplane. I'd pick him up in the end, fire him up in the air like a paper aeroplane because one of my arms is bigger than KSI."
"But listen, the kid ain't gonna do that," John Fury explained. "The kid's not stupid. They're not stupid people. Like, I'm not stupid. Things do get out of hand. But that takes two to tango. Always remember that. If they want a problem, it's because they're inciting it too. And if I think they're inciting something, I'm gonna meet them head on with in. In my age and my experience, they don't 100% want it. I can see in their eyes whether they want it or not. That's okay by me. I won't push it. But if they want it, they can have it. No one wants a problem in this life. Always remember that. No one wants it. But if they have to have it, they'll have it."
"I was born a man, I'll die a man," John Fury continued. "Nobody can put his hands on John Fury and expect to get away unscathed. You bring it and you touch me, you're in trouble." (Credit to Freebets.com)