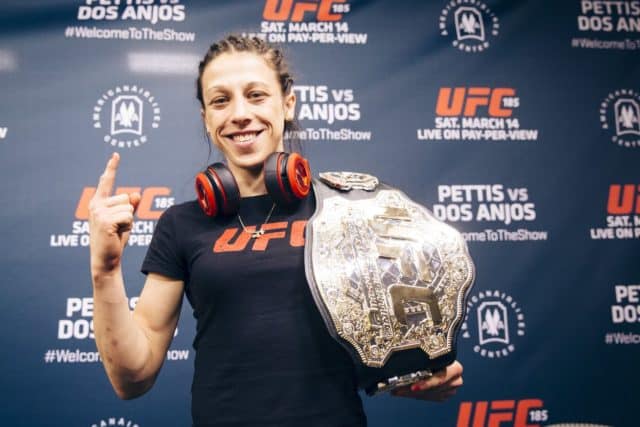 UFC strawweight champion Joanna Jedrzejczyk doesn't want to hear about a title defense against Rose Namajunas right now.
Jedrzejczyk is currently slated to make her fifth title defense against No. 3-ranked Jessica Andrade at UFC 211 live on pay-per-view (PPV) on May 13th from Dallas, Texas. A title eliminator has already been set up to challenge the winner of that title bout in Dallas, as No. 4-ranked Rose Namajunas takes on No. 6-ranked Michelle Waterson on April 15th at UFC on FOX 24.
Last week Jedrzejczyk joined Ariel Helwani on The MMA Hour to discuss her upcoming title defense against Andrade, and the eliminator bout between Namajunas and Waterson. When asked about 'Thug' in particular, Jedrzejczyk said she is impressed with her Octagon work and is interested to see her matched up against 'The Karate Hottie' (quotes via MMA Fighting):
"I'm impressed with her," Jedrzejczyk said. "Let's see. She has a good fight coming up with Rose, so we will see. We will see. I think that she might be my next challenger after I beat Jessica."
Namajunas is 5-3 in her mixed martial arts (MMA) career which includes big-name wins over Paige VanZant and Tecia Torres. However, 'Thug' has been on the losing end of bouts against 115-pound title-contenders such as Karolina Kowalkiewicz and Carla Esparza.
While Jedrzejczyk holds a great deal of respect for Namajunas the Polish champ believes there is something wrong with 'Thug's' head after calling for a title shot after a loss:
"You know what's weird? Like, I met Rose. I have so much respect for this girl," Jedrzejczyk said. "I think she's one of the most talented strawweights in the UFC, but she needs more experience. But, I think there is something wrong with her head.

"She got her chance to fight the Polish chick. But she lost to her and now she says 'oh, I want to fight Joanna, I want to beat her, I know how to beat her.' Come on. Get your chance, beat the best, and become a challenger. It's so crazy."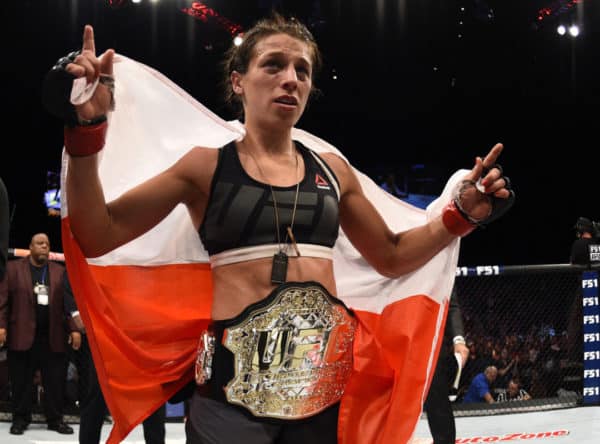 Jedrzejczyk noted that she and Namajunas met once before in Denver and they had a good encounter after shaking hands and conversing. Soon after that meeing, however, Namajunas went out and stated that she wanted the opportunity to beat the strawweight queen.
'JJ' doesn't appreciate the quick change in personality just days after their cordial meeting in 'The Mile High City':
"The thing is, like, I met her in Denver," Jedrzejczyk said. "We shake hands, we spoke to each other. And two days after, I heard that she was like, 'oh, I want to beat Joanna.' Shut up. You had your chance to beat Karolina and Carla Esparza before, and some others, but you just lost. Come on. Work hard, get your ass to the gym, put on better fights, and you're going to get this title shot.

"But be honest. If you don't like me, don't shake my hand and don't talk to me. Don't talk behind my back. I'm kind of a straight person and this is what makes me mad. I'm good with that, but I think Michelle Waterson will [beat] Rose."
If you enjoyed this story, please share it on social media!