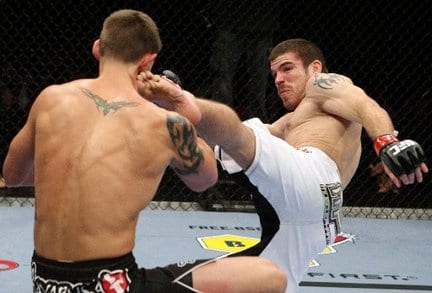 Jim Miller had a big night at UFC on Fox 16 on Saturday night when he defeated Danny Castillo following a two-fight losing streak, which was the first time in his career that such a thing happened.
Danny Castillo put up a helluva a fight against Miller, which resulted in a very close split decision that was given out by the judges. Remember what uncle Dana White says, "never leave it in the judge's hands."
Miller explained that his last fight, which saw him lose Beneil Dariush by unanimous decision at UFC on FOX 15, was not him at his best due to a rough weight cut.
"It's my first split decision that I've had," Miller told MMAjunkie following his win over Castillo. "I want to be banged up. My last fight I dropped the ball. I had a rough cut and things just weren't going my way leading up to the fight and I kind of bombed inside the cage. I came out of that fight not breathing heavy, not hurt, not a mark on me and it was disappointing."
Miller would go on to explain following the event that he has a different kind of style that makes him an exciting fighter to watch anytime he steps inside the world famous Octagon.
"I try to go in there and leave everything inside the cage," Miller said. "I try to win violently and dynamically. If you're going to do that, when you go down, you go down in flames. That fight was just disappointing. I'd rather get finished. I'd rather go in and come out with a potentially broken arm than come out completely unscathed. It's a fight and that's to be expected. I expect to get hurt. I expect to get bloody. When it doesn't happen, I want to be on the winning end. And hearing someone else's name and not being tired and not being hurt, it was crappy. It was embarrassing. So coming out with the 'W' wasn't my prettiest victory. My hat is off to Danny, he's a tough dude. He's been in there with some of the best on the planet. I'm feeling it. I'm feeling being in there with him for 15 minutes and it's going to hurt to get around for a couple days and that's the name of the game."
No word on who his next opponent will be, but he looked great in this performance and should be exciting to see what he'll do next time he's in the Octagon.