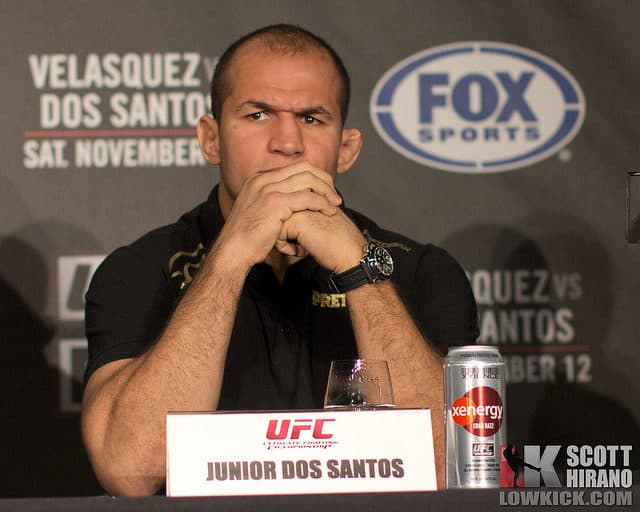 The pushback against Brock Lesnar's upcoming UFC heavyweight title shot rolls on.
Dana White and the UFC had to know that Lesnar's return to the octagon at last Saturday night's (July, 7th, 2018) UFC 226 was going to ruffle some feathers, and indeed it has, with many top fighters and media members expressing disdain at the UFC granting Lesnar a title shot without a real win in eight years.
The latest fighter to voice his displeasure is former heavyweight champion Junior dos Santos, who will meet Blagoy Ivanov in the main event of this weekend's UFC Boise. "Cigano," who was scheduled to face Lesnar back in 2011, isn't excited at how the situation has transpired.
Speaking to the Brazilian media (via MMA Fighting) on Wednesday, the No. 8-ranked dos Santos was a bit befuddled at the way the entire post-fight circus played out, if only because it tainted Daniel Cormier's win of his second UFC title.
"The return of Brock Lesnar didn't surprise me," dos Santos said. "What surprised me was Cormier, a two-division champion living the moment he was living, the most special moment of his career, calling out Brock Lesnar inside the Octagon. I didn't understand it, actually. I was shocked with the situation, it became theatrical. It was kind of ridiculous."
However, after hearing the newly crowned double champ explain his actions in the octagon post-fight, Cormier's actions become much more clear to dos Santos.
"I was watching the press conference later and he was explaining that Brock Lesnar is a guy that sells a lot of pay-per-view," dos Santos said, "So it will be a fight that involves a lot of money for him as well, and he's getting an easy fight… Not that it's easy, but it's an easier fight with a lot to gain financially."
The concerns the Brazilin heavyweight has voiced are perhaps a moot point if he doesn't take care of business in the main event of this weekend's UFC Boise.
The more pressing issue, perhaps, is that dos Santos feels slighted by the UFC, and to be specific, the ranking system that has the Brazilian in an uproar.
"That's completely unfair, but we know that rankings don't work in the UFC," dos Santos said. "Rankings are based on a weird policy, but it's not cool to see Brock Lesnar skipping the line especially because he didn't stop fighting because he chose to, he failed a drug test for s"

He was cut by USADA and now he returns like it's something positive, but it's not. He adds nothing to the sport. He's a guy that cheats. The only benefit he brings is that people really like watching him, that big guy."omething he has always used, you can clearly see it."
"The Beast" has officially re-entered the USADA testing pool but he will need to serve the remaining six months on his suspension if the Cormier vs. Lesnar megafight is to take place. Dos Santos, like many fans and fighters alike, believes Lesnar cant stay off of PEDs long enough for one of the biggest heavyweight fights in UFC history to happen.
"I've learned that those who use those types of performance drugs can't stay without them because they don't produce testosterone the way they did, they don't produce HGH they way they should, and many other hormones," dos Santos said. "To compete at high level, these guys can't do without it. I don't know what will be his strategy, but it's almost certain that he won't be clean."