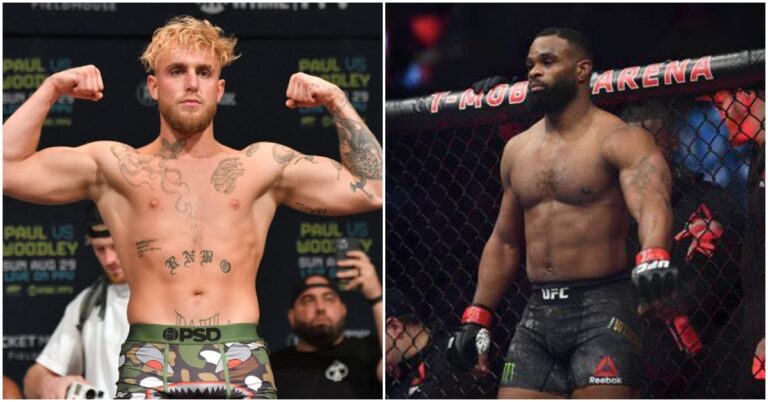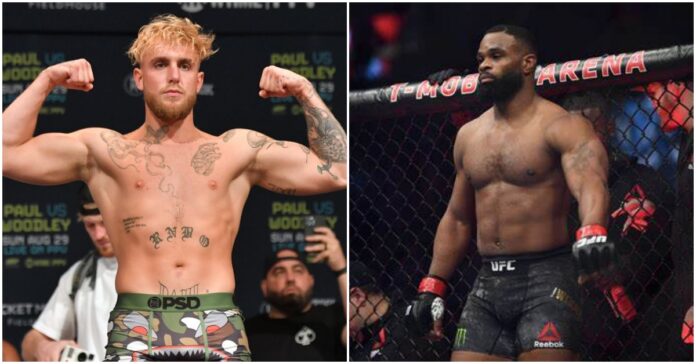 Jake Paul will look to improve his professional boxing record to 5-0 when he rematches former UFC champion Tyron Woodley at the Amalie Arena in Tampa, Florida. The fight will be live on Showtime pay-per-view this Saturday, December 18.
Join LowKickMMA as we preview, predict, and hopefully win money betting on Paul vs. Woodley 2. If you're going to be gambling on this fight or any other sports event this weekend, be sure you use sites for sports betting not on GamStop.
Jake Paul's Rise To Prominence
The YouTuber shocked everyone when he decided to become a professional boxer in 2020.
Since turning over Paul has picked up four wins but is yet to face anyone who has a background in the sport.
Paul made his debut against fellow internet celebrity AnEsonGib, knocking him out in the first round.
Next up, 'The Problem Child' squared off against former NBA player, Nate Robinson, on the undercard of Mike Tyson vs. Roy Jones Jr. Paul scored a spectacular second-round KO that went viral and triggered calls for the 24-year-old to step up his level of competition.
After that, Paul faced a real fighter for the first time when he boxed Ben Askren. The former Bellator and ONE Championship titlist was an elite-level MMA fighter in his day but was widely regarded as one of the worst strikers in the sport. He'd also been retired due to injury for a couple of years before Paul knocked him out inside one round.
Last time out, Paul endured his toughest test to date when he fought Askren teammate and recently released UFC fighter, Woodley. 'The Chosen One' was until recently competing against the best in the world and despite appearing to be past his peak was viewed by many as the man to end Paul's hype train. 'T-Wood' rocked Paul in the fourth round but was never able to really get going in the fight and ultimately fell to an embarrassing split decision loss against the former Disney star.
The Road To Jake Paul vs. Tyron Woodley 2
Post-fight, Paul agreed to rematch Woodley if he honoured the tattoo bet they made before the bout. The UFC legend was supposed to get "I love Jake Paul" tattooed on his body but hesitated. Paul had already moved on to another opponent by the time Woodley followed through on his promise.
'The Problem Child' was supposed to face Tommy Fury who is best known for starring in reality show Love Island, he is also the half-brother of WBC heavyweight champion Tyson Fury. The young Fury would've been the first boxer Paul has ever face and a tough one at that having secured seven wins during his short career in the ring.
Unfortunately, Fury was forced out of his fight with Paul after he suffered brokens ribs and a chest infection during camp. In stepped Woodley who insists he has been training for his rematch with Paul for at least two months.
Our Official Pick For Jake Paul vs. Tyron Woodley 2
Going into this fight Paul is the considerable favourite at odds of -250 and Woodley is a big underdog at +195.
We believe these are somewhat off and this fight is a lot closer than the bookmakers are giving it credit for.
Ultimately though, we will be backing Paul to make it 2-0 against Woodley.
We've made this pick for a few reasons. Firstly, despite everything, it's becoming clear Paul does have some boxing skills and at 24-years-old he is likely to get better with each and every camp he partakes in.
Our main issues though lie with Woodley and his preparation for this fight. 'The Chosen One' claims to have been in camp since September but we're not sure if that is true. Even if he had he won't have been training with the intensity needed for an eight-round boxing match.
Also, Woodley is 40 years old and way past his prime at this point. For years now he's been talking a big game without backing it up in the ring or in the Octagon. We expect to see the same shot-shy Woodley we have seen for a while now. Only this time he won't have the gas tank to go the distance and could well be stopped by Paul on Saturday night.
Who do you think wins this rematch? Jake Paul or Tyron Woodley?