A welterweight bout between former 170-pound champion 'Ruthless' Robbie Lawler and longtime veteran Donald 'Cowboy' Cerrone will be taking place at UFC 214 this Saturday, July 29, 2017, from the Honda Center in Anaheim, California.
The fight was originally scheduled for last November's UFC 205, and was then rescheduled for UFC 213 on July 8 in Las Vegas, but according to UFC President Dana White, Cerrone suffered from a pulled groin and a staph infection, and was forced to pull out
To recover from the infection, 'Cowboy' had to be hooked up to an IV for seven days. In an Instagram post from June 28, Cerrone talked about his condition:
Fast-forward a month later, and we have ourselves a highly anticipated fight between a brawler like Lawler,\ and a fan favorite like Cerrone. But is 'Cowboy' ready to take on the former welterweight champion?
Staph infections can range from simple skin boils to life-threatening, flesh-eating infections. These are common amongst fighters due to the highly infectious nature of the bacteria that causes it and the fact that it spreads through physical contact.
Most people only develop blisters, but in 'Cowboy's' case, the infection spread into his bloodstream. It's unclear how serious his condition was, but some of the symptoms of an infection of that nature could be nausea, vomiting, stomach aches, fever, joint, and muscle pain.
It can be treated within days or weeks of diagnosis, and according to Cerrone, he only needed a week of IV to treat it. But 'Cowboy' has been known to be careless with his own well-being in order to fight, and Lawler might make him pay for it.
The last time Cerrone rushed a fight, it cost him dearly.
He had been on a tear after making the move from lightweight to welterweight early in 2016 as he had finished all four opponents who fought him that year. With three spectacular knockouts and one brilliant submission, 'Cowboy' was on his way towards UFC gold, until he ran into a brick wall by the name of Jorge Masvidal.
Even though Cerrone had a war with Matt Brown in December 2016 where he was dropped multiple times, he insisted in fighting in his hometown of Denver, CO, just slightly over a month later.
'Cowboy' probably did not give himself enough time to recover and even less time to prepare for an opponent as dangerous as Masvidal. His desire to fight in his hometown clouded his judgment and he was absolutely destroyed by Masvidal, getting brutally knocked out in the second round after barely making it out of the first.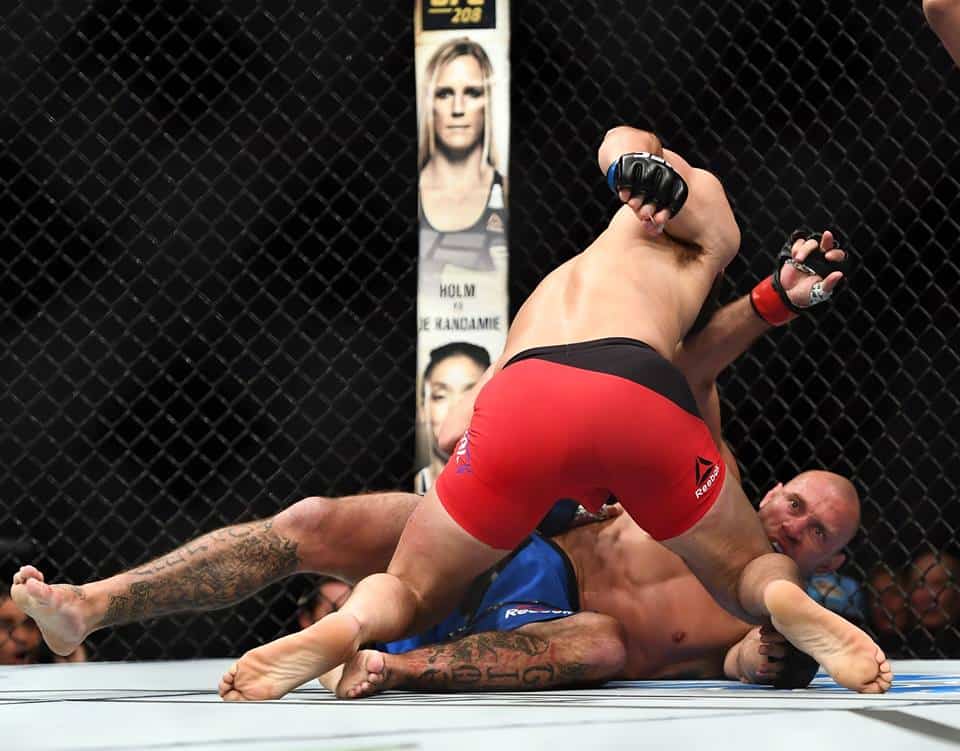 Following his loss, the UFC gave him a medical suspension for 45 days. Regardless, this time Cerrone gave himself over six months to recover to the point any leftover damage from his knockout had been taken care of. Now, he will just have to deal with injuries from training camp and with his staph infection.
On the other hand, Lawler has given himself an entire year since his last fight where he was obliterated by a big shot from Tyron Woodley at UFC 201 last July, losing his title in the process.
Lawler was clearly hurt by the knockout, as he declined to fight 'Cowboy' at the UFC 205 last November, asking for more time to recover. Hopefully 'Ruthless' is back to full health by now, as he has not cited any training camp injuries, so he could be walking into this fight with a health advantage.
'Cowboy' could be fully recovered by now, but it is not in his character to admit weakness or pull out of fights for his own sake. If he is still suffering the effects of the infection and other training camp injuries, he could be once again running headfirst into another brick wall.
On Saturday, he will share the Octagon with a healthy Lawler, a ruthless post-fight bonus machine all-too-familiar with classic bouts. We will see if Cerrone has what it takes to overcome personal health problems, defeat the 'Ruthless' one, and offer us the incredible fight this was destined to be.