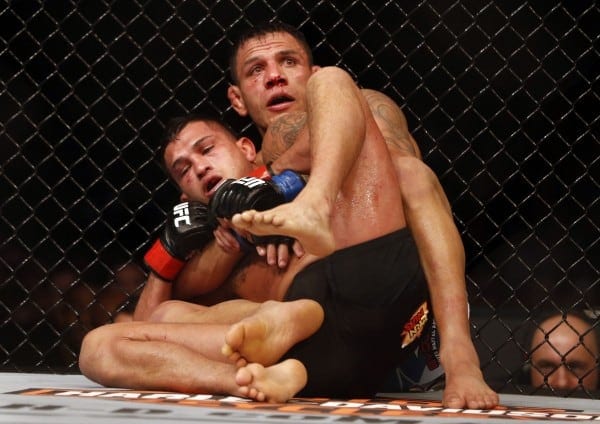 By dethroning popular division kingpin Anthony Pettis with a five-round show of dominance at last Saturday's (March 14, 2015) UFC 185 pay-per-view (PPV) from Dallas, Rafael dos Anjos pulled off one of the UFC's biggest title fight upsets in recent memory.
But that doesn't mean that he necessarily escaped from The Lonestar State without some damage of his own. Dos Anjos was reported to have fought "Showtime" with a partially torn MCL, and it appears that is just the case.
UFC Tonight's Ariel Helwani just reported that dos Anjos had an MRI on his knee, and it showed that the new champion will not require surgery, but will be out for around 90 days.
"Yes, he is a little banged up, but not quite what you think. He did have an MRI yesterday and they have confirmed that it is partially torn. It's not fully torn; he does not need surgery. He also has some scar tissue on his tendon, so he's going to be out for around three months, he can't go into a training camp for at least three months. The good news is he won't require surgery."
That is undoubtedly good news, yet dos Anjos will in fact require surgery on his nose, which was in bad shape heading into his bout with Pettis.
"He does need surgery on his nose, and that's going to be happen next Thursday. I'm told that on the right side of his nose, he can't breath at all, and on the left side, he can only use around 70 percent of it, so he was going into that fight with an injured nose, a partially broken nose. He'll be out for around three months, he can still train but can't go full for around three months or so."
Dos Anjos won't be able to sign on for a new training camp for three months, and that could delay his awaited bout with the winner of UFC 187's Khabib Nurmagomedov vs. Donald Cerrone. With five world-class fights in around 11 months, it's time off that he's earned, however.
Pettis also suffered a significant injury of his own, as Helwani clarified that he had broken the orbital bone over his right eye, which he told head coach Duke Roufus he couldn't see out of after a vicious first round straight left from dos Anjos.
"Showtime" was forced to stay in Dallas a few extra days for treatment, and should be out for around a month-and-a-half. Pettis is apparently chomping at the bit to return and prove that his one-sided loss to dos Anjos was a fluke.
"He did in fact break his orbital bone, and he couldn't leave Dallas until yesterday; he had to stay three extra days. He's going to be out for around six weeks, and they're going to check on him in around a couple weeks or so. He's going to be out for around six weeks, no contact. He's very anxious to get back in there according to his manager Mike Roberts."
Photo Credit: Tim Heitman-USA TODAY Sports