Former UFC women's bantamweight champion Holly Holm had a bad night at UFC 196, much like Conor McGregor did. "The Preacher's Daughter' faced Miesha Tate in the co-main event of the March 5 pay-per-view event, in an attempted first defense of the title she'd won so convincingly from Ronda Rousey at UFC 193 just three months prior. It wasn't to be Holm's night, at least in terms of the result, as she was choked unconscious by 'Cupcake' in round five, although she had arguably won every round leading up to the finish.
Her performance was never really in question, it was just that Tate's plan worked to perfection, and there was really nothing Holm could do once that choke was locked in. There was talk of an immediate rematch, then the rumours switched to Ronda Rousey somehow leap frogging Holm in the running, but eventually Tate was paired with Amanda Nunes for UFC 200 in July.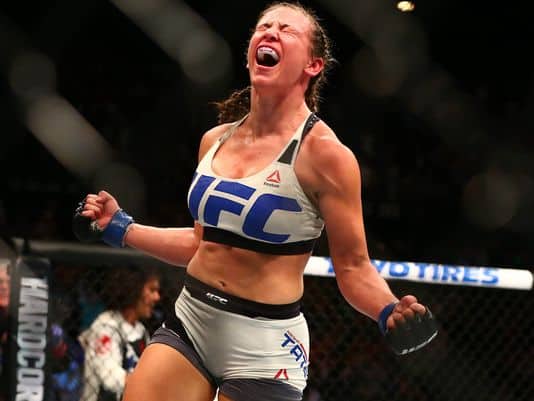 So where does Conor McGregor come in to the conversation? Facing Nate Diaz in the UFC 196 headlining bout, 'The Notorious' was also finished, but perhaps in more dominant fashion than Holm was against Tate. The 'hype train,' as it was labelled by many, had come to a screeching halt, and the consensus opinion was that McGregor would head back down to featherweight to defend the title he'd won from Jose Aldo at UFC 194. This was not to be, as just weeks later the news broke that McGregor and Diaz would fight once again at welterweight, and also at UFC 200, serving as the main event.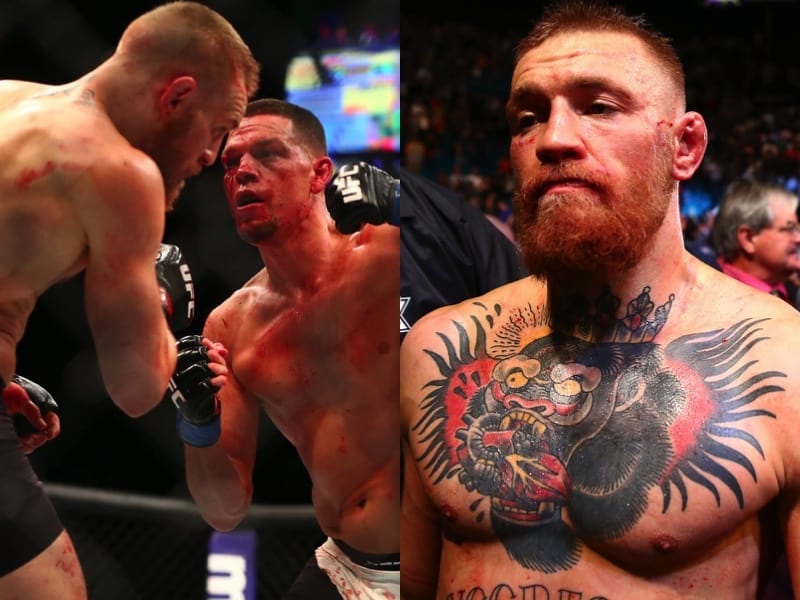 So why has Conor McGregor received different treatment than Holly Holm, or pretty much anyone else in UFC history? UFC president Dana White recently said it's because he always shows up to fight and never drops out injured, take that statement as you will.
Holly Holm sounds a little frustrated during a recent interview, and makes an interesting point about the Diaz vs. McGregor 2 booking…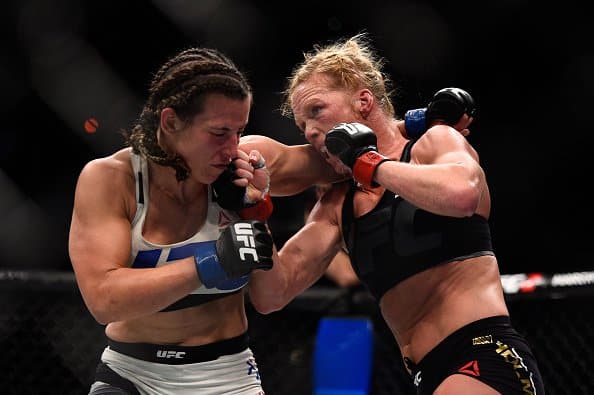 On this week's edition of The MMA Hour, Holly Holm discussed the fact she didn't get an immediate rematch, but Conor McGregor did.
Check it out, (H/T MMAMania for the quotes)
"I definitely feel like our fight had more competitiveness. I feel like our fight was more competitive than the main event that night as far as… yes I lost my belt, but I was winning the fight and it kind of creates this curiosity of what would happen in a rematch. I don't know. Hopefully they will put something together. But obviously it's going to be a while."
"After UFC 200, if she still has the belt, who knows how much time she is going to want to take off. That's what's frustrating is that, man, I want to fight for that rematch, but it might be a while so I have to see if they want to give me a different fight. Maybe Zingano or Pena, but they put them together. Right now it just seems like I'll be hanging out for awhile, and it's frustrating."
"I would hope she would want to give me the chance like I gave her the chance. But I also feel like I take responsibilities for what I do and I am the one that lost the belt, so I lost a lot of my pull of what I can wish and hope for and push for. Yeah, I was hoping she would give me that chance, but she also has her own career to focus on and what she aspires to do, so I can't judge her for that, either. I was hoping she would, but I'm not mad at her or anything like that."
Is Holly Holm the nicest fighter in UFC history?