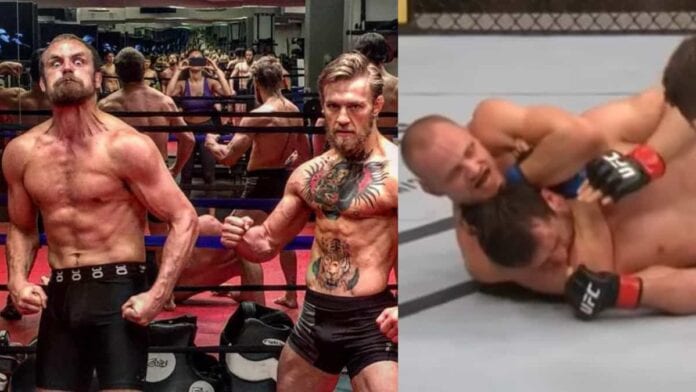 Conor McGregor's team mate Gunnar Nelson returns as he takes on Albert Tumenov in Rotterdam tonight. Iceland's Gunnar Nelson against the man nobody wants to fight at welterweight Albert Tumenov.
'Einstein' comes in to this bout with five straight wins, 'Gunni' needs to get a win back after losing a decision to Demian Maia in December last year. They touch gloves and we are underway.
They get in to the feeling out process, Nelson with a nice jab and a straight, Tumenov looking a little stiff as he kicks low. AT eats a huge left hook from Gunni, Nelsonmoving so well with that SBG style karate-ish stance. Tumenov lands a nice right hand though, body kick by Nelson and this fight is really going well now. Straight right from Nelson misses and now a head kick, but a body shot rips in from Tumenov and lands hard. Nice right hand to the chin by Tumenov but Nelson scores a massive takedown.
Nelson has full mount almost instantly, Tumenov in big trouble right now. Gunnar looking to posture up, Einstein needs to use his wits well here, brutal elbow from Nelson clatters Tumenov's head off the canvas, he seems stuck here and unable to escape or even regain position. He finally bucks but ends up munching a nasty elbow again, one minute left and Gunni is trying to cut Tumenov's face up big time. Another nasty elbow but Tumenov finally escapes and they stand. HUGE left hook by Tumenov and a side kick, great round, 10-9 Nelson easily.
Round two is a go, Tumenov has a nasty haematoma on the forehead from those elbows. Gunnar smelling blood but he needs to remain cautious. A raw body punch from Tumenov lands yet again, and a low kick now, Nelson counters well and switches stances. Jab by Gunnar but he looks a little slow now. Nelson with a takedown, maybe he was playing possum, and he's landed in side control here. Looks to mount and he gets it, Tumenov in big trouble yet again. I'd be surprised if 'Einstein' survives this Nelson on the back of Tumenov now.
Body triangle is locked in and now Tumenov is eating punches to the face, choke locks in, this is overm Tumenov taps and that's that.

Gunnar Nelson submits Albert Tumenov by rear naked choke submission round two.