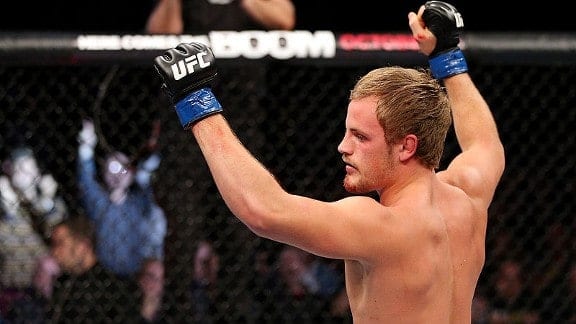 Icelandic MMA star Gunar Nelson feels he is two fights from a title shot….
Gunnar Nelson will headline this Saturday's (October 4th, 2014) UFC Fight Night 53 event from Sweden, as he prepares to battle Rick "The Horror" Story. Currently undefeated at 13-0, Nelson has put together four straight wins since joining the promotion back in 2012, with three coming by way of submission.
Much alike his SBG Ireland team mate Conor McGregor, "Gunni" is looking to clean sheet his way to a title shot in the UFC, and he feels that won't be too far down the line. Check out what Iceland's own Gunnar Nelson had to say while talking with MMAJunkie.com:
"It all depends on the manner of the way you win," Nelson said. "So I'd say if I win this one and the next one, the way I picture it, the third one will be a title shot. There's so many right at the top that I want to fight, and eventually, I will fight all of them,"
Since signing for the UFC, "Gunni" has scored wins over Jorge Santiago, DaMarques Johnson, Omari Akhemedov and most recently Zak Cummings. A win over Story would make it five on the bounce, so would a sixth win be enough to earn Nelson a UFC title shot? At that point he would be 6-0, should he get past one more welterweight, but how much further up the rankings would he be, given his current #12 spot? He turned his attention next to the subject of Story:
"We never make gameplans; we never train for a certain fighter," he said. "We're just working on our own game and what we like to work on. I've already seen some of his fights, and I know the way he moves, so now it's just to keep training and stay ready. As soon as I get in the cage, that's when I start getting ready for Rick Story. He's good everywhere, and I think the main thing is the pace he can keep up," Nelson said. "He's a powerful guy wherever he goes, so I'm willing to go anywhere."
It's always interesting to hear when guys don't plan for opponents specifically, and it almost casts your mind back to the days of a more primitive MMA style. You can almost see the cogs going round in Nelson's head as he picks his opponent's apart through the rounds, so you have to say that gameplanning is clearly not always essential.
So what do you think, could Gunnar Nelson be the UFC welterweight champion in three fights time, or is he in for a Johny Hendricks style streak before he could be considered in such a busy division?