Although fight fans love the back and forth, bloody wars that come around from time to time, there's nothing that displays pure excitement quite like a knockout.
In a sport that adores finishes, multiple fighters have made a name for themselves by possessing an ability that most just don't have: the ability to put another fighter to sleep with one shot.
In mixed martial arts (MMA) specifically, one well-timed, picture perfect punch can change a fight entirely, and we have seen this time and time again.
With a plethora of power punches inhabiting the UFC's roster, let's take a look back at five of the best one-punch knockouts of all-time: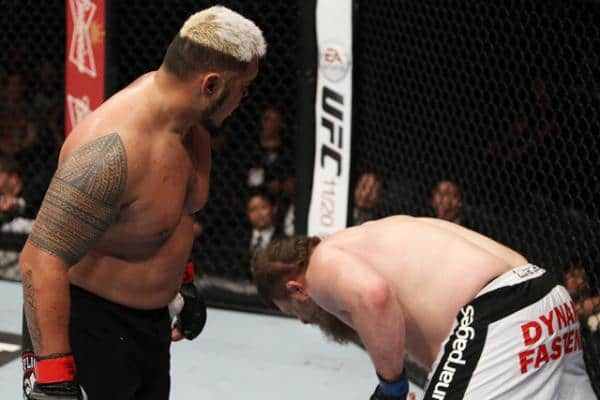 5. Mark Hunt vs. Roy Nelson – UFC Fight Night 52
UFC Fight Night 52 went down on September 20, 2014 from the Saitama Super Arena in Saitama, Japan.
Given the nature of the main event, no one had expected it to last too long, as legendary heavyweight sluggers Mark "The Super Samoan" Hunt and Roy "Big Country" Nelson went too battle.
A former K-1 world champion, Hunt has secured 8 of his 11 career wins by way of knockout, while Nelson, who possesses one of the most devastating right hands the sport has ever seen, has scored 14 of his 20 wins by knockout.
With both men also possessing iron chins, the bout did escape the first round, but it wasn't long until one man unleashed a brutal bomb, and that man would be "The Super Samoan".
Just minutes into the second frame, Hunt would land a devastating uppercut that sent "Big Country" plummeting and face planting to the canvas.
With no extra shots needed to award the stoppage, Hunt would walk off in fashion after scoring one of the best one-punch knockouts of all-time.
The scary part? This isn't the only time that each man appears on this list.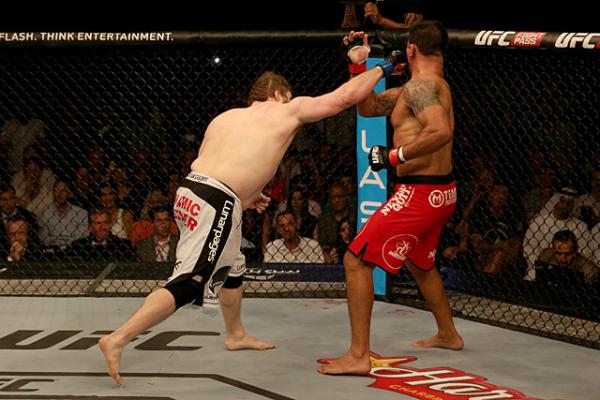 4. Roy Nelson vs. Antonio Rodrigo Nogueira – UFC Fight Night 39
Prior to his showdown with Hunt, Roy Nelson faced off with Brazilian legend Antonio Rodrigo Nogueira in the main event of UFC Fight Night 39 in April 2014.
Although Nogueira has shown crisp boxing throughout his career, this matchup was a classic striker vs. grappler contest with Nelson holding the brute power, and "Minotauro" holding the dangerous submission skills.
The bout would end up playing out mostly on the feet, however, which proved to be an advantage for "Big Country". After stumbling and rocking "Big Nog" with some solid shots early on, Nelson would unload on his patented right hand just minutes into the first round, sending a stiffened Nogueira crashing to the mat.
Nelson would add yet another historic knockout to his resume, this time only needing one shot in order to do so.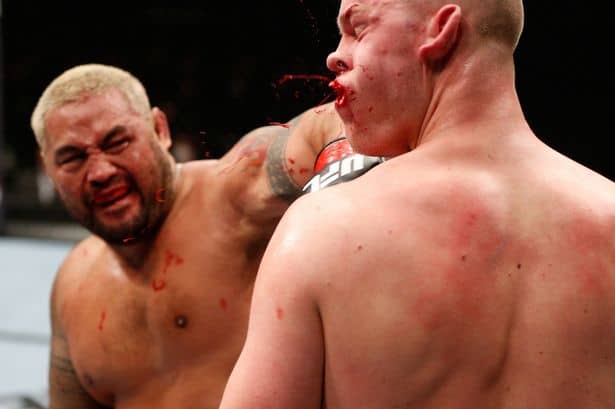 3. Mark Hunt vs. Stefan Struve – UFC on Fuel TV 8
Taking on the towering Stefan "Skyscraper" Struve at UFC on Fuel TV 8 in March 2013, Mark Hunt was facing a significant height and reach disadvantage.
That didn't prove to be too much of a problem for the shorter and stockier "Super Samoan", however, as Hunt would continuously work his way inside and begin to pepper Struve with hooks and uppercuts.
Once again showing off his world class power in the final frame, Hunt would charge in and land a thunderous left hook that would end up breaking the jaw of Struve and ending the fight.
Walking off in typical Mark Hunt fashion, the former K-1 world champion would add yet another one punch finish to his growing list of accomplishments.
2. Anderson Silva vs. Forrest Griffin – UFC 101
Moving up from his usual home at 185 pounds, former long-time middleweight champion Anderson "The Spider" Silva challenged former light heavyweight champion Forrest Griffin at UFC 101 in August 2009.
Despite being a scrappy and tough veteran, Griffin proved to be no match for the man many consider to be amongst the greatest fighters of all-time.
Early on in the first round, "The Spider" quickly put his taunting, hands down antics on full display, making his opponent simply look like an amateur.
After knocking down the ex 205 pound boss numerous times, Silva would use his effortless head movement to draw Griffin in before landing a perfectly timed right hand as he was moving backwards that shut the lights off for Griffin.
All it took was one punch for the illustrious Brazilian to etch his name near the top of this list.
And then there was one….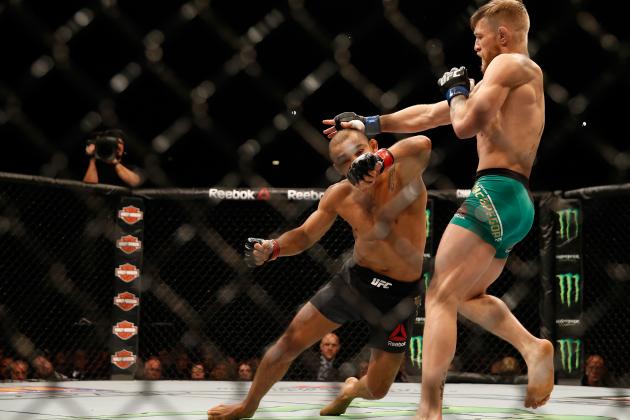 1. Jose Aldo vs. Conor McGregor – UFC 194
Heading into UFC 194, which took place on December 12, 2015, the world was awaiting what was considered to be the biggest fight in the history of the sport: a featherweight title unifier between long-time champion Jose Aldo and outspoken Irish Interim title holder Conor McGregor.
The two were originally scheduled to meet at July 11's UFC 189, but Aldo was forced to withdraw with an apparent rib injury. McGregor would go on to score a second round finish over Chad "Money" Mendes, making the hype surrounding his matchup with Aldo even larger.
Despite his six fight UFC win streak that included five finishes, many felt as if McGregor was all hype and all talk, and that Aldo would once again defend his strap.
Of course there were many believers in the "Notorious" one as well, but nobody saw what was coming.
Just 13 seconds into the highly anticipated affair, "Scarface" was unconscious on the canvas thanks to a devastating left hand from McGregor. Perfectly timed and perfectly placed, the shot was actually the first that the Irishman had thrown in the fight.
Although he added some unnecessary punches on the ground, this was a one-punch knockout make no mistake about it, and a fantastic one at that.
What are some of your favorite one-punch finishes?