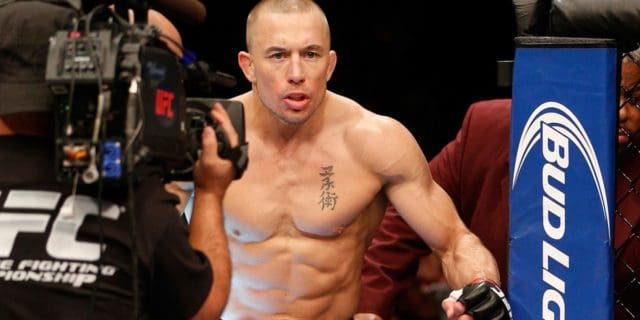 Georges St-Pierre knows who he's picking for Khabib Nurmagomedov and Conor McGregor's clash at UFC 229.
Over the weekend the UFC announced the lightweight rivals will finally settle their differences inside the Octagon in October. "The Eagle" will defend his UFC lightweight title against "The Notorious One" in the main event from the T-Mobile Arena.
In regards to St-Pierre, he has been involved in several fantasy bookings against both Nurmagomedov and McGregor recently. It's a very real possibility he fights the winner of the UFC 229 main event next.
The former UFC welterweight kingpin joined Submission Radio and offered his thoughts on the match-up. If St-Pierre had to bet the farm, he's putting his money on the Russian to leave Las Vegas "And Still":
"If I had to bet, if I had to put my house on it – (laughs) the biggest one – I would have to choose Khabib over Conor," GSP said. "Khabib never lost, he never lost, and Conor has lost before.

"He's lost on the ground. He has a few losses and he lost on the ground. That's where Khabib is good, that's where Khabib is more competent. However, Khabib is sometimes a slow starter and he gets punched a lot.

"Yes, he didn't look good in the beginning of that (Michael Johnson) fight. And it's hard sometimes to close distance, he had a problem to close the distance. But once he's got you in the clinch he's very good.

"So, I believe the chance, the house goes in Khabib's favor, maybe."
St-Pierre returned to UFC action back in November. He successfully captured the middleweight title from Michael Bisping in UFC 217's main event. "Rush" submitted "The Count" in the third round via rear-naked choke, rendering the Englishman unconscious.
He subsequently relinquished the 185-pound throne due to health concerns. The Canadian remains undefeated in mixed martial arts (MMA) competition since suffering his last loss back in 2007 to Matt Serra.
Should McGregor emerge victorious at UFC 229 in October, it opens up the door to what could be the biggest box-office attraction in the history of the sport.
At this point in his career, St-Pierre is looking to solidify himself as the greatest of all time. Who better to help him solidify that legacy than "Mystic Mac?" If you enjoyed this story, please share it on social media!