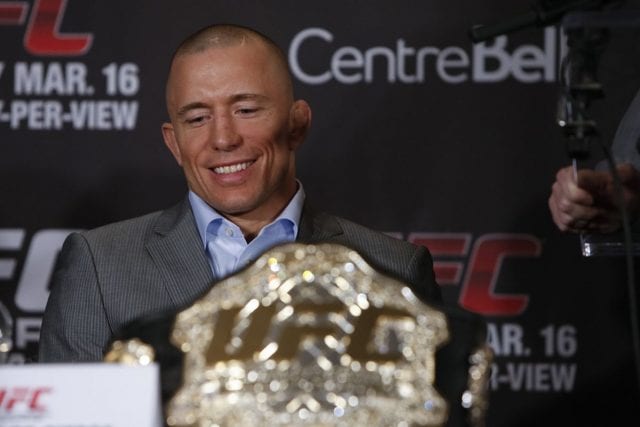 GSP says fighters with a history of PED usage should not be in the talks of GOAT in mixed martial arts.
For years now before the induction of USADA, the former welterweight and middleweight champ has made his opinion strong. Thus, that was one of the reasons that he took time off before his most recent fight.
St-Pierre decided to take a break from MMA following his split decision victory over Johny Hendricks at UFC 167. During his MMA career, St-Pierre made nine successful title defenses and held an overall pro-MMA record of 26–2.
The former UFC welterweight and middleweight champion returned to competition in November of 2017 after four years away from the sport to win the middleweight title.
The ending of that fight went down with a submission victory in the third round over Michael Bisping at UFC 217. However, shortly after the fight, he had to vacate the title as he is dealing with colitis.
St-Pierre Disapproves
During a recent interview with MMA Fighting, GSP went on record by stating that it makes a difference between those who use PEDs and those who don't. Thus, he thinks that fighters with past PED usage should be removed from GOAT discussions.
"It makes such a difference," St-Pierre told MMA Fighting. "People have no idea how much of a difference, and I know it because I've trained with people who are using peak performance-enhancing drugs. I've trained with a lot of them, that I know for sure.

"I've trained with them, and you could see a huge difference. Like, when you grapple with them, it's not even the same guy. It's like if you're taking two different human beings. It's completely insane.
Disqualified From The GOAT Discussion
St-Pierre went into detail about his view on performance-enhancing drug (PEDs). He claimed they not only affect the physical aspect of fighting, but also the athlete's mind and the persona as a whole.
Because of that, St-Pierre believes those caught using them should be removed from the conversation for the greatest of all-time:
"Also, not only the physique, it changes the mind of the person. So with people, they think it's only affecting strength and conditioning and stuff like that. No, it doesn't. It's not only recuperation — it changes the person entirely. It makes him a better athlete. And yes, I think they should be removed from the [GOAT discussion]."
He did add it's difficult to know if longtime fighters who got caught using PEDs once or twice were lifelong users. GSP believes there's a stark grey area as a result:
"It's very hard to say that," St-Pierre added, "because a lot of people, they work hard. We know if they got caught once or twice, but we don't know if they're all taking it for all of their life or not, so it's a hard topic to say. It's not black or white. It's grey."
If you enjoyed this story, please share it on social media!