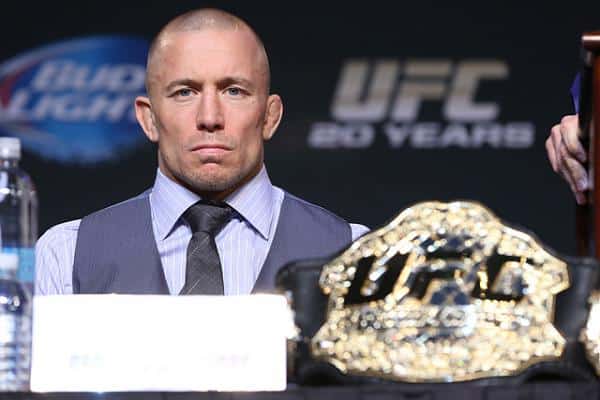 News arrived earlier this week (Mon., Nov. 28, 2016) that an 'industry re-defining' announcement was coming today from a group of prominent MMA figureheads including former UFC welterweight champ Georges St-Pierre and Bellator founder and former CEO Bjorn Rebney.
The group, which also included former UFC heavyweight champion Cain Velasquez, former bantamweight champ TJ Dillashaw, fan favorite welterweight Donald Cerrone, and middleweight Tim Kennedy, revealed this afternoon that they had taken the steps to finally form a long-awaited fighters' association. for MMA competitors. The association will be called the official Mixed Martial Arts Athletes Association.
The brand-new MMAAA just tweeted this photo of the flagship members online:
The Mixed Martial Arts Athletes Association is here. #MMAMovement pic.twitter.com/U1alwC0uWm

— The MMAAA (@Themmaaa) November 30, 2016
Rebney insisted the MMAAA is not a union, as UFC athletes' current independent contractor status would lead to a long process to create any union that could take years. He focused on the supposed massive gap between the UFC's revenue share with fighters, of which he claimed to be a paltry 8 percent, compared to other sports.
The five fighters present at the announcement were also declared as forming the initial board, on which Rebney will have no official vote. His role is one of strategy and professional advise for the fighters. Asked about his own past dealings as a fight promoter, he said in his best year, he shared 53 percent of all revenue with the fighters.
For his part, St-Pierre, who is currently attempting a comeback he said wasn't assured to materialize, wanted to be the voice of fighters, and with his lofty position, it was the right thing to do. He spoke of fighters from years gone by receiving pay after they are finished fighting, as they are often left without any medical care or income in their retirement years.
St-Pierre has long been at odds with the UFC, stemming from the very moment he vacated his long-held welterweight title in the aftermath of his highly controversial split decision win over Johny Hendricks at 2013's UFC 167. The superstar supposedly had his belt taken from his locker room while he showered before UFC President Dana White downplayed his decision to take some time off, saying a champion fighter simply couldn't do that.
But that paled in comparison to the roadblocks St-Pierre ran into when he attempted to make something of a comeback earlier this year. He revealed the UFC's new owners, talent giant WME-IMG, had taken a previous deal he had with prior owner Lorenzo Fertitta off the table, and then failed to offer him a suitable bout in a timeframe laid out by his attorney, making him a free agent in his own mind. The UFC insists St-Pierre remains under contract and they expect him to fulfill the obligations of his previous deal.
St-Pierre joined up with Rebney, the Bellator founder who was often at odds with White, Cerrone, who recently said he would be willing to head up a union, and Dillashaw, who, like Kennedy, has recently been a staunch opponent of UFC fighter pay and treatment. Interestingly enough, Velasquez has never been viewed as discontented nor spoke out against the current system, but it must be heavily noted that each fighter involved in the announcement is a client of Creative Agents Agency (CAA), WME-IMG's direct competitor.
The founding board of MMAAA said CAA wasn't backing them, but was in support of their effort. Kennedy made it a point to clarify no one from CAA was at the press conference for their own interests.
A fighter's association where combatants are finally able to collectively bargain for better pay, benefits, and overall treatment, is long overdue for the UFC and MMA overall, so the announcement comes as a breath of fresh air for a disgruntled fighter base that is finally realizing their worth after the company they work for as 'independent contractors' was sold for a staggering $4.2 billion.
That alone would have marked a new era for the growing sport, but this news makes it certain that revolutionary times are here for MMA. Let's hope that leads to the athletes who put their lives on the line receiving better compensation and care.