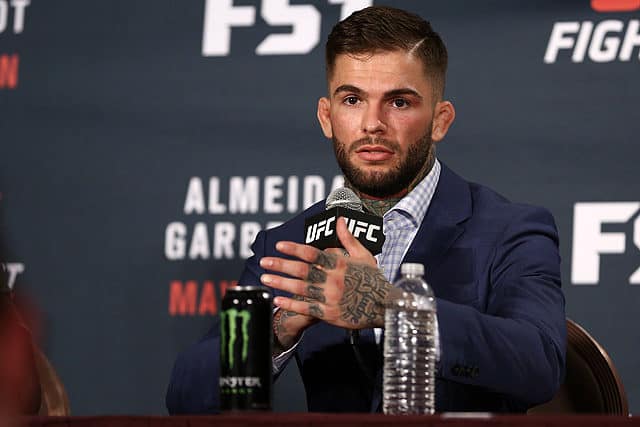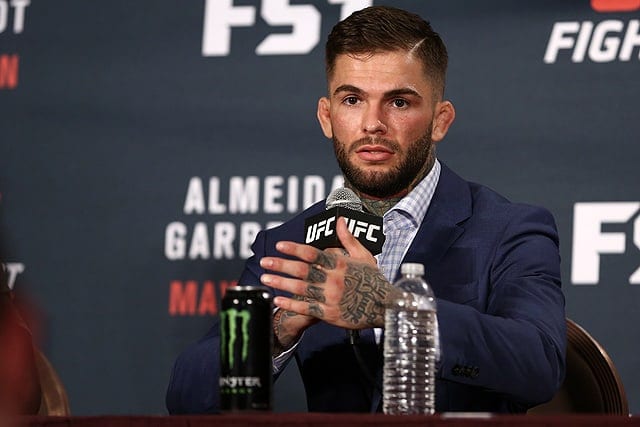 Heading into their bantamweight title bout in the co-main event of November 4's UFC 217 from New York, Cody Garbrandt and T.J. Dillashaw have a mounting tide of bad blood that's been accumulating for several years.
Dillashaw infamously left Garbrandt's Team Alpha Male to continue training with former TAM head coach Duane "Bang" Ludwig in Colorado, something that earned him the reputation of a 'snake' among MMA fans online. Dillashaw has since admitted he isn't happy with how it all played out, but during a media call for the card this week (via MMA Fighting), he also acknowledged that the rivalry has now resulted in what he called UFC 217's most anticipated fight:
"It all led up to this big fight, to the real main event of this card. Seventy percent of the fans want to see this fight more than any other on the card, so, it all happened for a reason, it's building our names."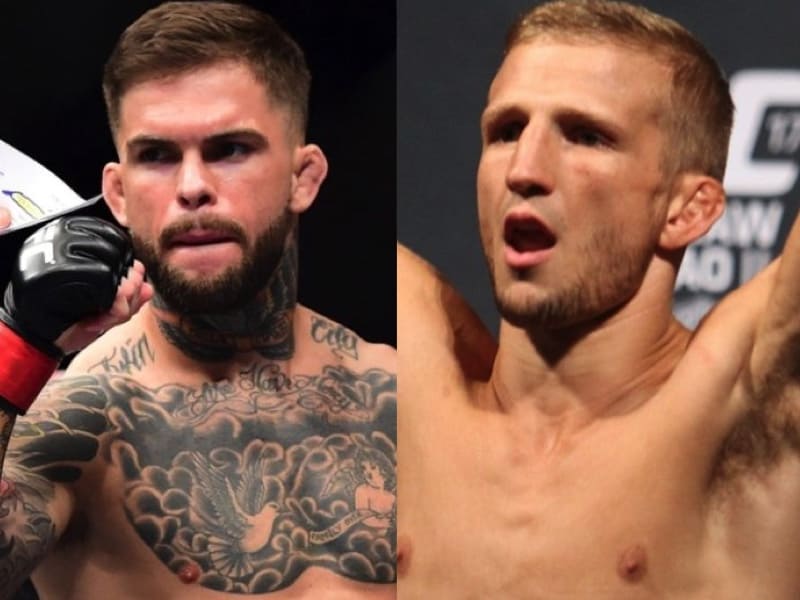 Considering the puzzling lack of overall promotion for UFC 217's main event between Michael Bisping and Georges St-Pierre, it's both surprising and not-so-surprising to see Dillashaw cite a poll declaring his bout with Garbrandt to be the most anticipated bout on a PPV featuring three title fights.
That could certainly be from the past between the two fighters, as Dillashaw came up fighting alongside Urijah Faber, Chad Mendes, Justin Bucholz, and everyone else at TAM. It's considered a 'real' beef, perhaps unlike the seemingly manufactured one between Bisping and St-Pierre, who has curiously never fought at middleweight in the UFC.
Tensions here are real – and bubbling over – so Garbrandt outright denied that Dillashaw is only thinking of the fight ahead. In his mind, Dillashaw simply won't admit he made a mistake in leaving TAM, who built him up to be the fighter he is today, and also know the ins and outs of his style:
"He regrets it every day of his life. But his ego won't let him admit that. Let's be honest, T.J.

"All my teammates, they built T.J. up to where he's at," Garbrandt said. "They know T.J. like the back of his hand. They got me ready for Dominick Cruz, they went countless hours, 27 rounds with Dominick Cruz, so they knew him, they taught T.J. everything. I had Justin Buchholz in this camp the whole camp the last year preparing for T.J., getting ready for this guy, and Justin taught him how to throw a punch, so I'm extremely confident when I get in there."
The bout was set to make a splash at this summer's UFC 213 after Garbrandt and Dillashaw coached The Ultimate Fighter (TUF) 25, yet lost much of the momentum and buzz "No Love" had created when he won the belt from longtime champion Dominick Cruz at 2016's UFC 207 11 months after Dillashaw lost it to 'The Dominator.'
Now, it's slowly regaining steam heading into UFC 217, and could be the most awaited fight on what is the biggest UFC card of the year, at least on paper. Not taking a truly ruthless path by disavowing his former teammates, Dillashaw admitted he saw things playing out differently, but at this point, he said all he can do is make the most of the huge opportunity before him:
"It's definitely not how I [foresaw] it going down. But, it all worked out for the reasons that it did and I'm going to make the most of it."
If you enjoyed this story, please share it on social media!