Gambling Addiction Enabler: 'UFC on FX: Browne vs. Bigfoot' Edition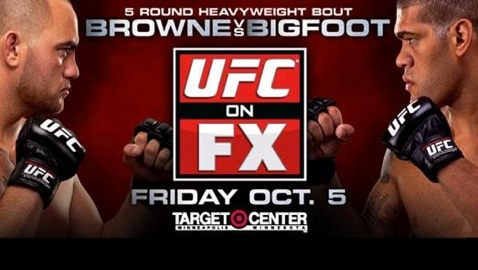 For the past several UFC events, CagePotato reader/contributor Dan "Get Off Me" George has been holding down the Gambling Addiction Enabler's with the poise and classiness of a 16th century Bolognese swordsman. Unfortunately for you, he only likes to bet on the big time PPV events, so you're stuck with me for the time being. Fortunately for you, I write a lot less than he does and love to get reckless with my hard earned cash, so let's do this! Listed below are the odds for UFC on FX: Browne vs. Bigfoot, courtesy of BestFightOdds, followed by my advice which simply put has never been wrong not once ever.
MAIN CARD
Travis Browne (-240) vs. Antonio Silva(+200)
Jake Ellenberger (-360) vs. Jay Hieron (+300)
John Dodson (-200) vs. Jussier Formiga (+170)
Josh Neer (-280) vs. Justin Edwards (+240)
PRELIMINARY CARD
Yves Edwards (+175) vs. Jeremy Stephens (-225)
Danny Castillo (+130) vs. Michael Johnson (-160)
Dennis Hallman (+190) vs. Thiago Tavares (-250)
Shane Roller (+150) vs. Jacob Volkmann (-180)
Diego Nunes (-180) vs. Bart Palaszewski (+150)
Phil Harris (+230) vs. Darren Uyenoyama (-290)
Marcus LeVesseur (-105) vs. Carlo Prater (-125)
Mike Pierce (-170) vs. Aaron Simpson (+150)
Thoughts…
As I previously mentioned, I am going to be short and sweet for this week's enabler. That means no prop bets and no fight-by-fight analysis, just a straight look at who I think is being under/overvalued and a suggested parlay.
The Good Dogs: Your best chances at upsets in my opinion are heavily based around the grappling-oriented gameplans of several fighters on the card. Hallman vs. Tavares, Volkmann vs. Roller, and Castillo vs. Johnson will be determined by the abilities of Volkmann, Hallman, and Castillo to get the fight to the ground and grapple out a decision. In all three cases, you are looking at only a slight to moderate underdog hovering in the +150 to +200 range. Of these three matches, the person who stands the best chance of implementing this gameplan is Dennis Hallman, who holds a notable size advantage over most every lightweight out there including Tavares. Although he has looked great lately and has a solid Jiu-Jitsu base, I think Hallman should be able stay heavy on top of Tavares and avoid getting submitted long enough to score a close decision victory.
While we all know that Shane Roller is undoubtedly more well rounded than Jacob Volkmann, we also know that it takes a hell of a wrestler to deal with the grappling prowess of the Minnesotan. Roller, while being a talented grappler in his own right, does not lead me to believe that he can defend Volkmann's takedowns when a wrestler like Danny Castillo couldn't. Volkmann has shown that he can be submitted by an opponent with an offensive guard, but the key to a Roller victory here is going to be keeping the fight standing. Roller showed in the Thiago Tavares fight that he does pack some power, so if you think he'll be able to fend off Volkmann's takedowns for long enough to land a haymaker, I'd suggest a wager on him as well. Personally, I just don't think that will be the case. Castillo vs. Johnson is in the same vein. Johnson will be looking to keep things on the feet, but Castillo is a stellar grappler who is strong on top and will probably be looking to exploit Johnson's somewhat weak submission defense. If he is able to get Johnson to the mat in the first round, expect him to dictate the action for the rest of the fight.
There is one other option: Bart Palaszewski vs. Diego Nunes.
This fight is a little easier to gauge: Both men are primarily strikers, both are coming off losses, and both are 1-2 in their past 3. The difference in their striking lies in pure aggressiveness; Nunes is known for using his kicks to keep his opponents at bay and has shown little killer instinct in the past couple of years, whereas "Bartimus" loves to drag things into a good old fashioned brawl and let the fists fly. Bart should also hold an advantage in the grappling game, so expect to see him utilize some clinch work and dirty boxing to eek out a decision over Nunes if things get hairy on the feet.
Come to think of it, that was pretty much a fight-by-fight analysis. MOVING ON.
Stay the Hell Away From: The main event. Antonio Silva is not listed as a big enough dog to risk a bet on and Browne has notched impressive victories over Stefan Struve and Chad Griggs in between weak performances against Cheick Kongo and Rob Broughton. Browne should easily take this, but you don't want to risk your parlay on whether or not he'll have an off night.
Official CagePotato Parlay: Pierce – Stephens – Dodson – Ellenberger
Official CagePotato Parlay #2: Pierce – Hallman – Dodson
Worthy Side Bets: Castillo and Palaszewski
Agree or disagree?
-J. Jones