Gambling Addiction Enabler: UFC 137 Edition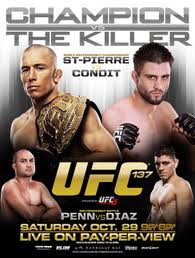 (Not yet………………………………..getting warmer…….)
UFC 137 is just around the bend, and since the lineup has made more changes than a MTV awards show host, we figured we'd lay out the current odds before something else horrible happens. So, courtesy of BestFightOdds.com, check out the sweetest lines available, along with our time tested advice below.
PPV Main Card
B.J. Penn (-115) vs. Nick Diaz (-105)
Matt Mitrione (-135) vs. Cheick Kongo (+115)
Roy Nelson (-290) vs. Mirko Filipovic (+245)
Hatsu Hioki (-330) vs. George Roop (+270)
There is no line yet available for the recently bumped up Tavares/Jacoby fight.
Spike TV Prelims
Donald Cerrone (-225) vs. Dennis Siver (+185)
Tyson Griffin (-290) vs. Bart Palaszewski (+245)
The undercard odds have yet to be released as well, but we only bet big here, so forgeddaboutit!
The Main Event: With a line as even as Penn/Diaz, you might as well be basing your pick on attendance records at this point. Both are excellent submission artists with equally deadly striking and blocks of granite for chins. It has all the ingredients for one hell of a fight, but a hard one to invest in. If the fight is changed to a five rounder, which is still up in the air, you gotta think it favors Diaz, who can literally run, swim, and cycle miles around Penn. But Paul Daley was pretty damn close to finishing him in his last fight, I don't care what anyone says. So if you think Penn is the man to actually put Diaz away, then a modest bet wouldn't be a terrible decision.
The Good Dogs: If Cheick Kongo's miracle win over Pat Barry taught us anything, it's that the man can take a licking and keep on ticking. Does Mitrione have more power in his hands than Barry? Doubtful. Has he fought anyone even close to Kongo's level? Nope. It's not that Mitrione can't win it, because Kongo has looked less than brilliant as of late, the Hail Mary knockout excluded. But Kongo's experience should pay dividends if this goes into the later rounds, so a bet on him seems fair. Having been the underdog before, Siver is tempting at +185, but he barely eeked out the nod over Matt Wiman (which I believe he deserved) and Cerrone will dictate where and how the fight takes place.
The Easy Bet: Look, I am about as big a Cro Cop fan as you get get, but even I cannot see him winning this one. Nelson has a far superior ground game plus the power to knock Cro Cop out, which, let's be honest, has been getting to be less and less of an accomplishment. And if Mirko couldn't knockout the man Big Nog knocked out in half a round, then he aint' doing it to "Big Country." I see this one ending with Cro Cop flat on his back and looking up at the lights, wondering why in the hell he named his son Filip Filipovic.
Stay the Hell Away From: George Roop. The man has never been one for consistency, and though he has scored brilliant knockouts over Chan Sung Jung and Josh Grispi, he was also blown out of the water by Mark Hominick, and has dropped decisions to Eddie Wineland and Shane Nelson. Shane who you ask? Exactly. Hatsu Hioki takes this with ease.
Official CagePotato parlay: Kongo + Nelson + Cerrone
A bet of 50 bucks nets you $158.82, or enough to buy that UFC glove autographed by Fedor Emelianenko you've always wanted, though I imagine its asking price is only headed downhill.
And hey, Happy We Killed Another Terrorist Day!!
-Danga