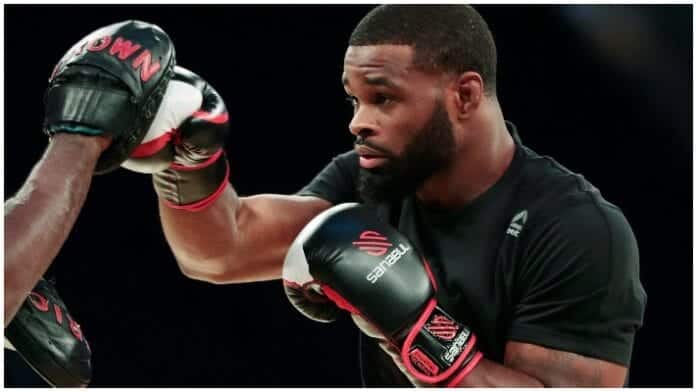 Expect plenty of activity from Tyron Woodley next year.
The former UFC welterweight champion is currently a free agent and is coming off a unanimous decision defeat to YouTuber-turned-boxer Jake Paul in August.
Woodley was hoping to secure a lucrative rematch only for Paul to brush him aside and move on by fighting Tommy Fury instead.
However, "The Chosen One" remains in a unique position as he plans on competing in various combat sports in 2022. His goal is to compete four times in total (via Middle Easy).
"My ceiling is kinda different right now." Woodley told MMA Junkie. "The fights that I want to take… I'm the only free agent in combat sports. Nobody else can say they're a free agent. I can fight here, I can fight there, I can fight f*cking anywhere."
"Next year, you're gonna watch me fight 4 times, 4 different promotions, 4 different styles of fighting. I'm gonna be the first one to do it. You're gonna see everybody else following behind like they always do."
Tyron Woodley To Make MMA Return
One of those four outings could very well be a boxing match with Dan Hardy. However, mixed martial arts is also on the agenda.
"One of them is gonna be in MMA. I'm planning on fighting in MMA in July," Woodley added. "Probably (Las) Vegas or something like that."
It's unlikely to be a return to the UFC. But there's always Bellator and Triller Triad Combat if you can count the latter as MMA.
Woodley departed the UFC on a four-fight losing streak with his last outing being a first-round submission defeat to Vicente Luque back in March.
What fights do you expect to see for Tyron Woodley next year?