Frankie Edgar Wants To Fight Before End Of The Year, Won't Wait For Title Shot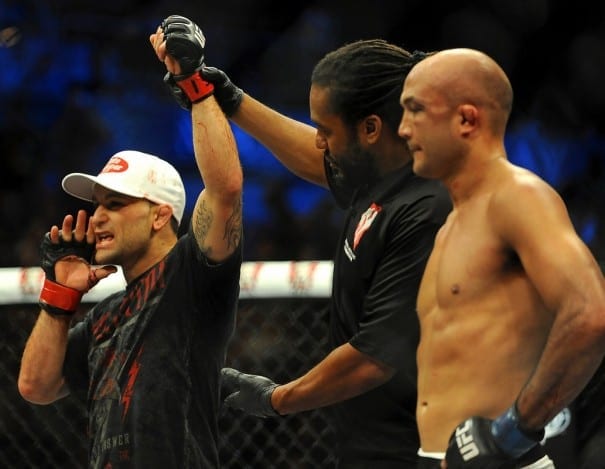 Despite possibly already being deserving of a title shot, it seems as if No. 2-ranked featherweight, and former lightweight champion Frankie "The Answer" Edgar will not sit around and wait any longer for that coveted shot at UFC gold.
Edgar dropped down to 145-pounds in 2013, losing a somewhat close decision to reigning champion Jose Aldo. He has since rattled off four-straight wins, including two finishes, but was leapfrogged by the hype train which is Conor McGregor for a title shot.
McGregor was set to meet Aldo in a mega fight at UFC 189, but Aldo was forced out of the bout due to a rib injury. Edgar was then skipped over once again, as the UFC decided to pit another former title challenger in the form of Chad Mendes against McGregor for an interim title.
With McGregor securing the interim belt, a bout with Aldo, which is being targeted for December, is now a necessity, once again leaving Edgar out in the dust for quite some time.
With a family to support, "The Answer" spoke up with MMAJunkie (Via Bloody Elbow) yesterday, saying that he's only getting older, and that he needs the money. Edgar said the decision is ultimately up to his employers, but if he has any say in it, he would like to fight before the end of the year:
"I've got three kids, man," Edgar said. "I'm trying to make some money. I'm not getting any younger. I want to challenge myself and keep improving. The best way to improve is to test yourself in the cage."
"I don't know. I'm going to leave that up to the UFC. I know a lot of guys aren't really available, but I definitely do want to fight before the year's out."
As for an opponent, the former champion is right when he says that many of the top featherweights are booked as of now. One possibility that could make sense for Edgar would be the winner of August 23's main event between No. 5-ranked Max Holloway, and No. 7-ranked Charles Oliveira, a man Edgar has beaten.
If a title shot can't be next, what's Edgar's best option?